Attaining "1i Maturity Level" of Industry 4.0 - Trio Turns Itself into a "Mini Smart City"
Digital transformation is the panacea for enterprises to excel in the face of market volatility. Be it large or small and medium-sized enterprises, industry upgrade and transformation are keys to overcome challenges and maintain competitive edges. The Hong Kong Productivity Council (HKPC) has been echoing the HKSAR government's quest for "reindustrialisation" in recent years, assisting Hong Kong enterprises in the implementation of Industry 4.0 (i4.0) and Enterprise 4.0 (e4.0) towards the road of digital transformation.
Trio Industrial Electronics Group Limited (Trio) is a Hong Kong electronics manufacturer which recently attained the "1i maturity level" certificate of i4.0 conferred by the HKPC and the Fraunhofer Institute for Production Technology / IPT. The feat is a testament that the Group, to a certain extent, has developed the basic information technology (IT) foundation for real-time data analysis.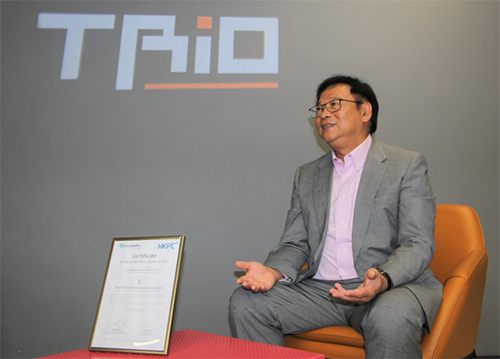 "Implementation of i4.0 enables us to become a genuine companion, not an onlooker, for our smart future". – Mr LAI Yiu-wah, Chairman and Executive Director of Trio Industrial Electronics Group Limited
Spurring by Customers
As an original equipment manufacturer (OEM) and electronics manufacturing services (EMS) provider, Mr Lai Yiu-wah, Chairman and Executive Director of Trio Industrial Electronics Group Limited, said the Group has expanded rapidly over the past decade, with a spectacular record of over five-fold increase in sales. Yet the surge comes with increasing customer demands, giving the Group impetus to make progress in enhancing product and service quality. He said only by doing so can Trio stay competitive and consolidate support of its major clients.
About two years ago, HKPC helped Trio with industry upgrade, during which Mr Lai got acquainted with i4.0 and embarked on his i4.0 journey since then. After going through technical assessment by HKPC's professional i4.0 team, an array of i4.0 pilot programmes and implementing strategies were devised for Trio. Pilot projects on collection of real-time data, introduction of automatic facilities and integration of production systems have made smart manufacturing and operations possible. In addition to building an i4.0 culture, Trio succeeded in wooing overseas clients to boost sales volume.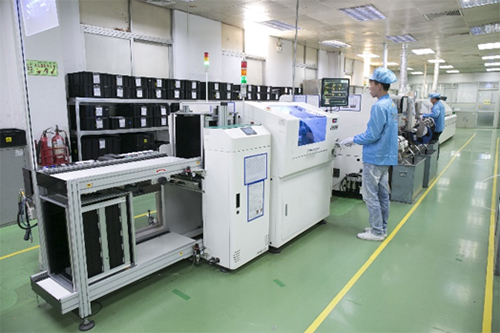 HKPC's technical assessment devises i4.0 pilot programmes and implementing strategies for Trio to achieve smart manufacturing and operations.
Harnessing Digital Tools
Optimising the use of digital tools is pivotal to the entire i4.0 upgrade process as it integrates various types of IT systems. In Trio's case, it combines two internal systems – the T-MICS and the ERP – and uses digital tools to facilitate production planning and schedule, thus making the overall production flexible enough to address customer needs swiftly. Besides, the system is capable of managing different versions and settings of project files for ensuring information consistency. To maximise accuracy of cost calculation, the system also keeps track of the entire operations in terms of particulars and costs, and analyses all previous quotations.
Effective Digital Management
Trio demands all divisions set their own key performance indicator (KPI) for proper management of manufacturing and operations, in accordance with the international standard of ISO 22400. The system will collect all the real-time KPI figures and display them in the Data Management Centre as an encouragement for staff to pursue excellence in performance.
Self-explanatory Data
Big date is one of the essential technologies when it comes to the implementation of i4.0 and smart manufacturing. Trio installed cost-effective sensors onto its existing facilities and production lines. A wide range of real-time data can then be collected for continuous enhancement of efficiency. The system, for example, will even analyse production efficiency when the machines halt operations. Coupled with the recognition system, it is easy for staff or clients to track every item and material, including the logistics status beyond the factory, thus enhancing transparency of the supply chain.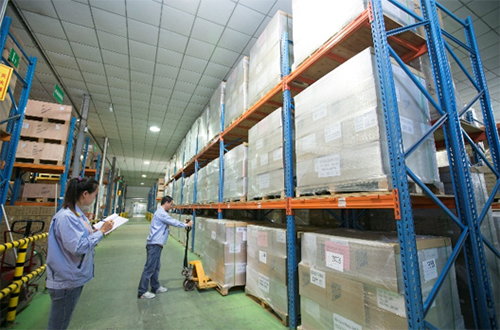 Sensors are installed onto the existing facilities and production lines to facilitate real-time data collection. The recognition system also enhances transparency of the supply chain through tracking of every single item and material.
Belief of Self-strengthening
Upholding the belief of self-strengthening, Mr Lai said Trio has been actively engaging in digital transformation in recent years, developing the automatic test equipment (ATE) and original design manufacturing (ODM). Such efforts have helped the Group to be listed on the Hong Kong Stock Exchange (HKEx) in November 2017 and attain the "1i maturity level" certificate of i4.0 in April 2019.
Since the implementation of i4.0, the ratio of non-production staff to production staff in Trio has narrowed to 4:6, whereas work efficiency has increased over 40%. The rise of production efficiency and service quality has led to diversity of products, from the general electronics products and power supplies to other high value-added industrial electronics goods, such as smart charger and smart vending machine.
Mr Lai revealed that with the launch of the next five-year plan starting 2020, Trio will keep striding towards the "2i maturity level", aiming to turn the Group's operation and production base into a "mini smart city". He is confident that the application of real-time data analytics, artificial intelligence and blockchain will undoubtedly help make visionary decisions for the betterment of business development.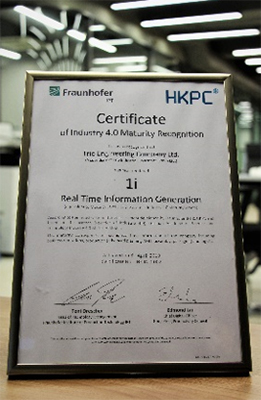 Trio attained the "1i maturity level" of i4.0 in April 2019.
Takeaway of HKPC's Digital Upgrade
HKPC's professional team merely lends a helping hand to drive Trio's success in attaining the "1i maturity level" of i4.0. Instead, it is the management team's quest for innovation, adherence to digital transformation, and creation of an i4.0 cultural across the Group that make Trio reap fruits in the i4.0 journey.
Information and photos provided by:
Hong Kong Productivity Council
Enquiry Hotline: 2788 5555
Email: service@hkpc.org