Corporate Governance
HKPC is a statutory organization governed by the Hong Kong Productivity Council Ordinance (Chapter 1116 of Laws of Hong Kong). HKPC is fully committed to maintaining good corporate governance as we strongly believe that good corporate governance is essential to accomplishing our public mission and meeting the expectations of our stakeholders. We attach paramount importance to adopting accountability, transparency, fairness and ethics as the cornerstones of our corporate governance framework.
Corporate Governance Structure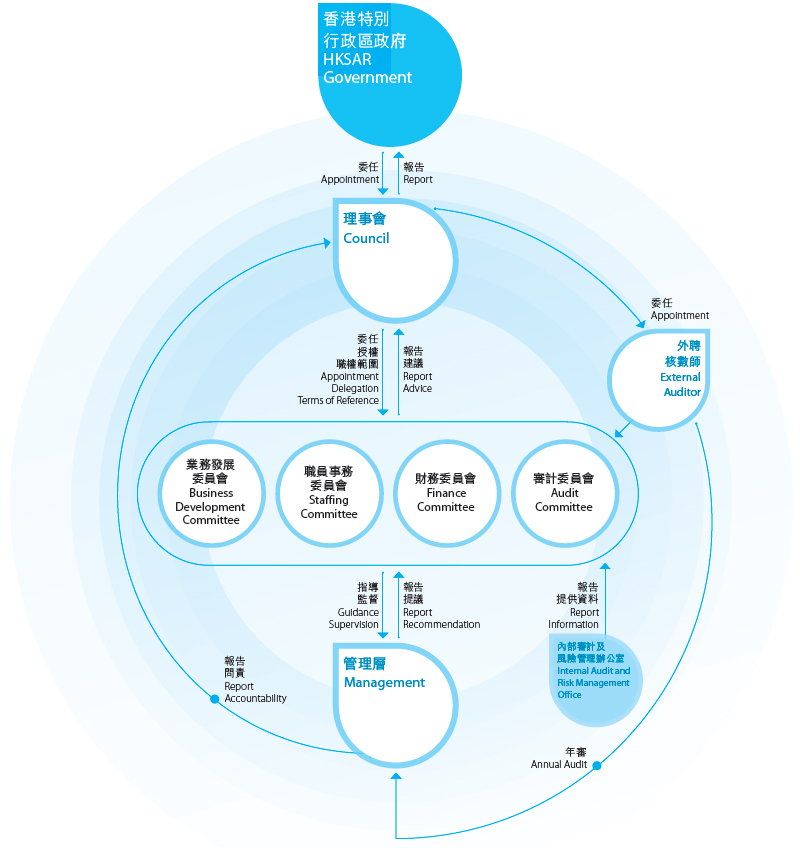 ---
COUNCIL MEMBERSHIP & STANDING COMMITTEE
Chairman
Mr Willy LIN Sun Mo, SBS, JP

Mr Willy Lin Sun Mo, a veteran industrialist with extensive experience in the textile and garment business, assumed Chairmanship of the Hong Kong Productivity Council (HKPC) in August 2016. Mr Lin is the Managing Director of Milo's Knitwear (International) Ltd and Milo's Manufacturing Co Ltd in Hong Kong. He is also the Non-executive Director of Top Form International Ltd and Chief Executive Officer of Dongguan Tangxia Futung Knitwear Factory Ltd in Mainland China.
Mr Lin is dedicated to the development of the industry in Hong Kong. He served in HKPC as a Council Member from 2003 to 2008. Currently, he is also the Chairman of the Hong Kong Shippers' Council since 1999 and Honorary Chairman of Hong Kong Exporters' Association, Hong Kong Knitwear Exporters and Manufacturers Association and Textile Council of Hong Kong respectively. Mr Lin holds a number of key positions in the governing bodies of various trade associations and quangos including Deputy Chairman of the Federation of Hong Kong Industries, Council Member of Hong Kong Logistics Development Council and Hong Kong Trade Development Council, and Board Member of the Hong Kong Maritime and Port Board.
From 2009 to 2015, Mr Lin was the Chairman of the Hong Kong Export Credit Insurance Corporation. He was also the chairperson of a number of trade associations including Textile Council of Hong Kong, Shippers' Association of Hong Kong, Hong Kong Exporters' Association and Textile Institute Association (Hong Kong).
Mr Lin has a strong record in public and community services. From 2007 to 2013, he was the Chairman of the Board of Governors of the Prince Philip Dental Hospital and Council Member of the Chinese University of Hong Kong from 2008 to 2014. Currently, he is a member of the Manpower Development Committee of Labour and Welfare Bureau.

Mr Lin is the Honorary Consul of the Slovak Republic to Hong Kong and Macau, a Member of the Chinese People's Political Consultative Committee of Jieyang in Guangdong Province and Ji'An in Jiangxi Province respectively. He is the Director of the Hong Kong-Thailand Business Council and an Honorary Trade Advisor of the Ministry of Commerce of Thailand.
Mr Lin graduated from Babson College in the United States with a Bachelor of Science degree.
Deputy Chairman
Mr Patrick WONG Chi-kwong
Management/Professional/Academic Representatives
Professor John CHAI Yat-chiu, JP
Mr Alan CHEUNG
Mr Felix CHOW Bok-hin
Mr Wilson FUNG Ying-wai
Ms Mandy KWOK Man-yee
Mr LEUNG Kwong-chuen
Mr Paul POON Wai-ying
Dr Allen SHI Lop-tak, BBS, MH, JP
Professor TAM Kar-yan, MH
Mr Sunny TAN
Mrs Carrie YAU TSANG Ka-lai, GBS, JP
Ms Karmen YEUNG Ka-yin
Mr Emil YU Chen-on, JP
Labour Representatives
Ms LEE Sau-king
Ms Juan LEUNG Chung-yan
Mr LI Hoi
Public Officers
Mr CHEUK Wing-hing, JP
Permanent Secretary for Innovation and Technology
Ms Annie CHOI Suk-han, JP
Commissioner for Innovation and Technology
Ms Salina YAN Mei-mei, JP
Director-General of Trade and Industry
Mrs Helen CHAN, JP
Government Economist
Ms Mabel LI Po-yi, JP
Deputy Commissioner for Labour (Labour Administration)

Code of Conduct for Council Members


Auditors
Ernst & Young
Legal Advisers
Wilkinson & Grist
Nixon Peabody CWL
STANDING COMMITTEES
Staffing Committee
The Staffing Committee approves the appointment of General Managers. The Committee monitors the staffing situation and recommends changes to the Council where appropriate. It advises the Council on human resources development policies. The Committee also monitors HKPC's general terms and conditions of service, to ensure that these are adequate to recruit and retain competent staff, and recommends changes to the Council where necessary. The Committee provides a channel between the Council and staff for the communication of grievances about general terms and conditions of service, in situations where they cannot be resolved by consultation.
Chairman
Mr Sunny Tan
Members
Ms Mandy Kwok Man-yee
Ms Amy Lee Sau-king
Mr Leung Kwong-chuen
Mr Li Hoi
Mr Patrick Wong Chi-kwong
Mrs Carrie Yau Tsang Ka-lai, GBS, JP
Miss Mabel Li Po-yi, JP
Mr Bryan Ha Kwok-fung
Business Development Committee
The Business Development Committee reviews the business activities of HKPC, explores new business opportunities, and recommends the three-year strategic plan of HKPC to the Council. The Committee also monitors the performance of HKPC's subsidiary companies.

Members
Mr Alan Cheung
Mr Felix Chow Bok-hin
Professor Tam Kar-yan, MH
Mr Emil Yu Chen-on, JP
Mr Bryan Ha Kwok-fung
Finance Committee
The Finance Committee monitors the financial performance of HKPC and ensures that funds made available are properly accounted for. The Committee approves changes to HKPC's policies and practices relating to procurement, building management, fixed asset management and charging levels of HKPC's services. The Committee recommends HKPC's three-year forecast, an annual programme and estimates and the transfer of funds between major heads of expenditure, for consideration by the Council. The Committee also advises the Council on matters relating to HKPC's financial policies and matters that have a significant financial impact on HKPC.
Chairman
Mr Wilson Fung Ying-wai
Members
Professor John Chai Yat-chiu, JP
Mr Felix Chow Bok-hin
Ms Karmen Yeung Ka-yin
Mrs Helen Chan, JP
Mr Bryan Ha Kwok-fung
Audit Committee
The Audit Committee is established to monitor and make recommendations to enhance HKPC's healthy corporate governance in financial reporting, risk management, internal control, appointment and performance of the external auditor, and compliance with relevant laws and regulations. The Committee is authorized by the Council to investigate any activity and resolve any disagreement within its scope of duties. Staff members can directly report to the Chairman of the Audit Committee on cases of malpractice or irregularities. The Committee is underpinned by an Internal Audit and Risk Management Office which reports functionally to the Chairman of the Audit Committee and administratively to the Executive Director. The Office is committed to assist the Audit Committee to safeguard and promote the healthy corporate governance of the HKPC.
Chairman
Mr Patrick Wong Chi-kwong
Members
Mr Alan Cheung
Ms Mandy Kwok Man-yee
Mr Leung Kwong-chuen
Ms Karmen Yeung Ka-yin
Ms Annie Choi Suk-han, JP
Minutes of Meeting