With the development of smart cities in full swing both locally and overseas, the Hong Kong Productivity Council (HKPC) urges smart system and device users to strengthen cyber security awareness and be more collaborative in intelligence sharing in order to combat new cyber threats.
Address the "Information Security Summit 2018" today (4 September 2018), Mr Willy Lin, Chairman of HKPC, said, "As local governments and businesses pursue smart initiatives, cybersecurity must be embedded in the design stage. Users must learn how to protect themselves from cyber attacks. They must build their 'Human Firewall' to stay vigilant on new cyber threats, and ultimately become the most effective last line of cyber defence."
"Also, while using artificial intelligence, machine learning and other advanced technologies can help detect and predict cyber threats in an early stage, forming a trusted collaborative network to share threat intelligence among different stakeholders can greatly improve the situational awareness of the community and enable a smarter response to cyber threats," he added.
Jointly organized by HKPC and ten other information security bodies, the Summit addresses the theme of "Smart Cybersecurity by Design: Human Firewalls and System Intelligence". It comprises a two-day conference and workshops on new technologies and practices to protect data in the cloud and mobile environment, big data analytics and the Internet of Things.
The Summit is one of HKPC's ongoing initiatives to enhance cyber security awareness in Hong Kong. To assess the readiness of Hong Kong companies to combat today's cyber threats, it launched the inaugural "SSH Hong Kong Enterprise Cyber Security Readiness Index Survey" in April. Recently, it and its Hong Kong Computer Emergency Response Team Coordination Centre also published a new set of best practice guidelines for SMEs to improve their cyber defence through seven cyber security aspects.
Other officiating guests at the opening of the Summit included Mr Victor Lam, Government Chief Information Officer of the HKSAR Government; the Hon Charles Mok, Legislative Councillor of the HKSAR; Mr Gordon Lo, Acting Executive Director of HKPC; and Mr Dale Johnstone, Chairman of the Summit's organizing committee.
For information about the Summit and HKPC's cyber security services, please contact Mr Leung Siu-Cheong, Senior Consultant, IT Division of HKPC, on tel.: (852) 2788 5420 or email: This email address is being protected from spambots. You need JavaScript enabled to view it.. For other media enquiries, please contact Mr Felix Chan of Corporate Communications and Marketing Division at tel. (852) 2788 5036 or email: This email address is being protected from spambots. You need JavaScript enabled to view it..
4 September 2018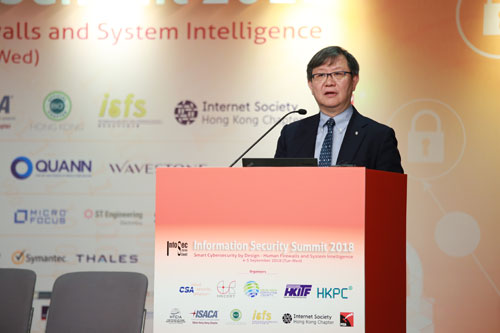 Mr Willy Lin, Chairman of HKPC, gives a welcoming speech at the opening ceremony of the "Information Security Summit 2018"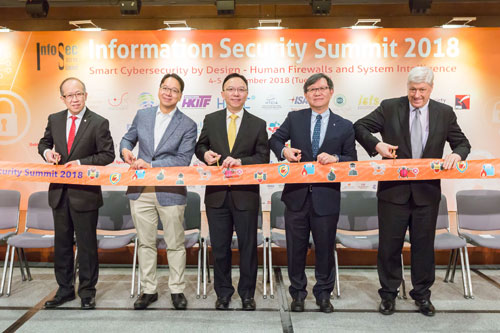 Mr Victor Lam, Government Chief Information Officer of the HKSAR Government (centre); Mr Willy Lin, Chairman of HKPC (second from right); the Hon Charles Mok, Legislative Councillor of the HKSAR (second from left); Mr Gordon Lo, Acting Executive Director of HKPC (first from left); and Mr Dale Johnstone, Chairman of the "Information Security Summit 2018" organising committee, officiating at the Summit's opening ceremony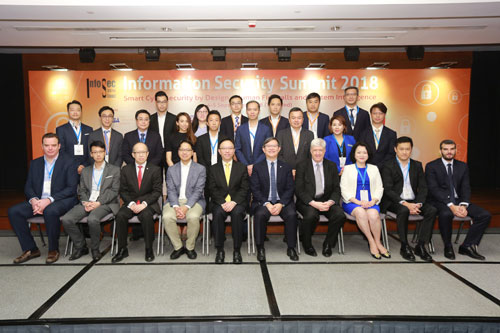 Officiating guests and representatives from the sponsors of the "Information Security Summit 2018" pose for a group photo