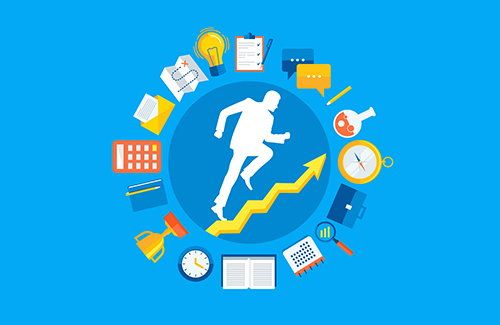 To make headways in a fiercely competitive market, a team of professional and able staff is essential. Hence, an excellent talent pool often holds the key to a successful business. In recent years, companies are paying more and more attention to manpower development, and are implementing various manpower training and development projects in order to strengthen the core foundation of sustainable development. However, manpower development must move with times and not be complacent.
Through the Employees Retraining Board's Manpower Developer Award Scheme, HKPC has visited organizations of different sizes to assess their manpower training and development strategies and implementation. It has incorporated its findings into six major elements for those companies focusing on manpower development to keep pace with the market trend and to build a team that meet market demands.
Six major elements of "Manpower Training and Development":
Tradition and Innovation – integrated online + offline training
Unique experience – overseas visits + real-time learning
Workplace "1 + 1" – individual counselling
Workplace planning – tailor-made development plan
Business "Library" – knowledge management
New generation training – training projects for young workers
HKPC has been the technical consultant of the Manpower Developer Award Scheme since 2009. On top of designing the Scheme's certification mechanism and assessment criteria, it also conducts the assessments and prepares the assessment reports for the applicants. Hence, it possesses comprehensive knowledge on the unique manpower training and development needs of different industries and can help businesses attain their manpower training and development goals with the most suitable new element(s).
HKPC offers professional consultancy and training services in human capital management and manpower training. For more information, please contact us.