The Recognition of Prior Learning (RPL) mechanism under the Qualifications Framework (QF) is a measure to recognise work experiences and competencies acquired by practitioners at the workplace. It is particularly useful to practitioners who do not possess high academic attainment but have acquired substantial practical experience in industry, reducing the need to undergo skill training again.
At the same time, it provides a useful guide for employers and management to draw up training plans to meet the needs of the organizations based on the competence and level attained by the employees.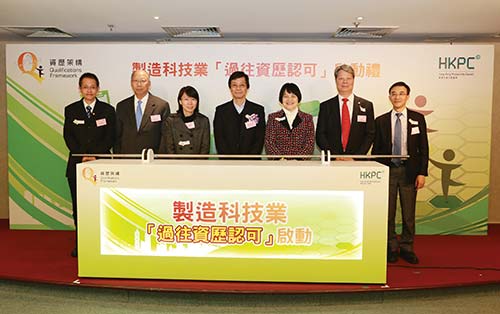 The Manufacturing Technology (Tooling, Metals and Plastics) Industry Training Advisory Committee launches the Manufacturing Technology RPL to promote QF and RPL
Qualifications Assessment by Industry Experts
HKPC has set up a RPL Assessment Office to oversee the assessment. The assessors are made up of HKPC and industry experts who have abundant experience in different job types of the manufacturing technology industry and are required to pass the evaluation. After assessment by RPL, practitioners can receive a qualifications certificate.
Application Procedures for "Recognition of Prior Learning"

Note: In the first five years transition period (starting from 15 March 2017), applicants for Level 1 to 3 of the RPL mechanism of the Manufacturing Technology (Tooling, Metals and Plastics) Industry can use the document search path for verification.

For application details on RFL, please contact HKPC.