As a heat resistant rubber, silicone can withstand high temperatures. Compared to other materials, its products are biocompatible and durable, thereby suitable for the food, medical and industrial sectors, etc. In theory, silicon surface contains oxygen atoms that carries cathodes and static electricity. As dust contains anodes, it and the static electric silicon surface are attracted to each other. The surface becomes dusty easily and is difficult to clean off, affecting the appearance and effectiveness of the product. Hence, HKPC works on a solution and discovers that plasma surface modification can solve the problem. Eventually, it successfully applies plasma-enhanced chemical vapor deposition (PECVD) to enhance the surface properties of the product.
Using plasma energy to modify the oxygen atoms of the silicon surface and change the surface properties from cathode to anode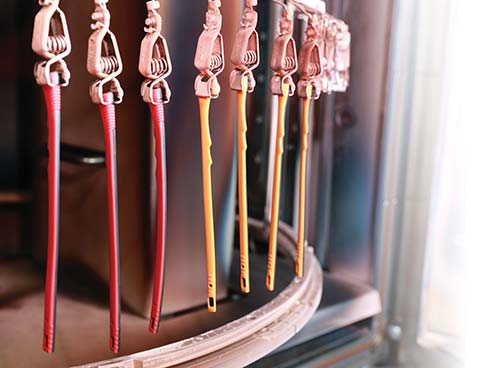 Meanwhile, high pulsed power magnetron sputtering (HPPMS) is a new type of magnetron sputtering technology that brings together the high energy and pulse-jet features. During the coating process, the power source plays an important role as the "high energy" and "pulse-jet" power discharge method releases a powerful output voltage of up to 1,500V in less than two microseconds like lightening. As lots of ions are released in the process to ease the internal stress of the coating, a thick plasma coating is produced which does not damage the surface of the products or parts. This method increases the rate of ionization and enhances the adhesiveness of the coating on the product surface.
HKPC provides one-stop solution for the above two treatment technologies and cordially invites application for technology transfer and licensing of all technologies. For enquiry, please contact us.