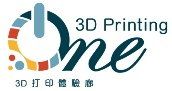 Experiencing 3D printing
Introduction
The first one-stop 3D printing support centre in Hong Kong, which aims to promote the understanding and adoption of 3D printing technology to different industry sectors, enterprises, professional, education bodies and the general public. 3D Printing One features all-round 3D printing solutions and a wide range of 3D printing equipment, software and facilities, from elementary to professional level. Together with technical support and professional training, visitors can experience an end-to-end 3D printing process under one roof.
"Give Life to Your Idea"
Objectives
Serving the industry, general public and students
Provide professional training and technical advices to visitors on product development, 3D Computer-aided design and 3D printing technology and help them to master the technology
Provide working space and 3D printing-related facilities to visitors
Target audience
Industry
General Public
Students
Opening hours
Monday to Friday, 9:30 a.m. to 6:30 p.m.
Enquiry
Email
This email address is being protected from spambots. You need JavaScript enabled to view it.