Six Tips Help HK Companies Navigate Through Trade Conflicts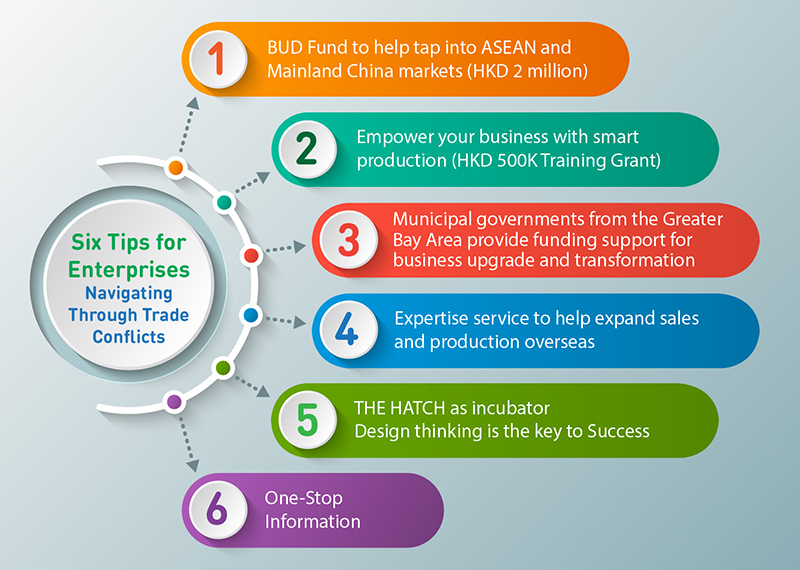 Against the backdrop of burgeoning China-US trade conflicts which have casted ominous shadow over the business environment, HKPC provides assistive initiatives for local companies. Come check out the six timely measures that help you withstand the headwinds.
HKD 2 million - BUD Fund to help tap into ASEAN and Mainland China markets
BUD Fund is a dedicated fund for extending market reach to Mainland China and ASEAN countries. Domestic sales and ASEAN projects can receive up to HK$1 million respectively.
HKD 500K Training Grant – Empower your business with smart production
Enterprises can receive the Government training grant up to HKD 500K per year to finance their professional training on i4.0 and smart production.
Municipal governments from the Greater Bay Area provide funding support for business upgrade and transformation
Apply for business upgrade and transformation support offered by the Dongguan, Zhongshan and Zhuhai Municipal Governments. Funding provided by the Dongguan Municipal Government has been raised to RMB 600K, while Zhongshan and Zhuhai Municipal Governments also offer RMB 390K respectively.
Expertise service to help expand sales and production overseas
Our experts always stand by your side to provide technical support in automation and cleaner production, ensuring compliance with local regulations.
THE HATCH as incubator – Design thinking is the key to Success
Join the workshops organised by THE HATCH (INC Invention Centre) which aim to facilitate transformation from Original Equipment Manufacturer (OEM) to Original Brand Manufacturer (OBM). We teach you the strategies of increasing market competitiveness through the adoption of design thinking methodology.
One-Stop Information
Keep abreast of the latest news and measures provided by our SME One so as to get first-hand information about the trade row. A series of inspection tours to ASEAN countries, including Thailand, Vietnam and Cambodia, will be organised in June this year to help you explore business opportunities therein.
HKPC will soon publish a business guide on the challenges and opportunities brought by Hong Kong reindustrialization and ASEAN Investment. Stay tuned!
If you are interested in joining our inspection tours, please do not hesitate to contact us:
Support hotline: 2788 6262
Email: This email address is being protected from spambots. You need JavaScript enabled to view it.