European Innovation Academy and HKPC Inno Space - Kick off New Summer Programme in Hong Kong to Nurture Tech Entrepreneurs
(Hong Kong, 18 July 2019) The European Innovation Academy (EIA) today kicked off its first-ever entrepreneurship summer programme in Hong Kong to help nurture a new generation of technology entrepreneurs, and to facilitate the development of Hong Kong as a global entrepreneurship education hub, with Inno Space of the Hong Kong Productivity Council (HKPC) as the programme's host and co-organiser.
Speaking at the opening of the programme, Dr Alar Kolk, President of EIA, said, "Our mission is to teach entrepreneurship for students and young professionals as we truly believe that they are the ones disrupting economies and businesses. Launching the European Innovation Academy in Hong Kong is a great chance for future entrepreneurs to be in a thriving startup ecosystem benefiting from the opportunities and resources from the Greater Bay Area. Young innovators from around the globe are working together and coming up with new solutions that will challenge the existing in just two weeks. From the way we walk, eat, and breath, here and now is the right moment and place to create the new future."
Nearly 100 students and young professionals from North America, Europe and Asia will spend the next two weeks at HKPC learning the skills and knowledge required to build a startup from scratch, from disruptive idea design, product development and validation processes, revenue and business model, to the marketing campaign and investor pitches.
Dr Lawrence Cheung, Chief Innovation Officer of HKPC, said, "HKPC puts advocating innovation and budding up-and-coming startups at its heart. Recently, it revitalised its brand with a new tagline of 'Inspiring Disruption', aiming to disrupt traditional business approaches and enable Hong Kong industries to innovate faster. Its Inno Space serves as a powerhouse of innovation and design thinking where members can learn how to design products and create prototypes through workshops, seminars and networking. It is really a place where ideas can come to life. That these ideas become ventures, and that those ventures can grow and prosper."
The participants will be able to pick the brains of mentors from world-renowned technology giants and education institutions including Mercedes-Benz, Google, Microsoft, Techstars and UC Berkeley for advice, before presenting their ideas and solutions at a specially-arranged startup expo and answering questions from their peers, mentors and the public. They will also learn about the business opportunities in the Guangdong-Hong Kong-Macao Greater Bay Area for startups.
For more details about the programme, please visit the website: https://www.inacademy.eu/hongkong/
- Ends -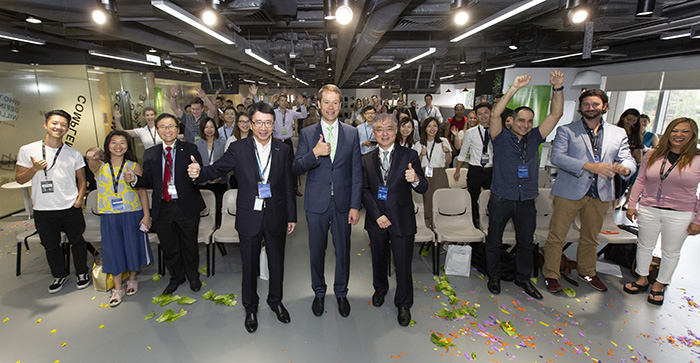 Dr Lawrence Cheung, Chief Innovation Officer of HKPC (left); Dr Alar Kolk, President of EIA (centre), and Mr Andrew Young, Associate Director (Innovation) of Sino Group, pose for a group photo with mentors and participants of EIA's first entrepreneurship summer programme in Hong Kong