HKPC Supports Continuous Growth of SMEs with New Fund Fair
(Hong Kong, 4 September 2019) The Hong Kong Productivity Council (HKPC) will hold the inaugural SME One Fund Fair on 16 and 17 September at HKPC Building in Kowloon Tong in order to help Hong Kong SMEs address challenges arising from the current economic downturn. Local companies can use this one-stop platform, a key activity of HKPC's eight SME support measures, to learn about nearly 50 funding schemes of the government and public organisations of Hong Kong and local governments in the Greater Bay Area (GBA). Together with on-site advisory and information sharing seminars by the schemes' implementation bodies, participants will receive first hand useful information on funding schemes in the most convenient and direct means, boosting their chance of finding a solution to overcome difficult times.
Speaking at a symposium for SMEs titled "New measures in facing economic downturn" organised by the Commerce and Economic Development Bureau of the HKSAR Goverment, Mr Willy Lin, Chairman of HKPC said, "With global trade outlook certainty and continuous economic slowdown, Hong Kong SMEs should prepare for the rainy days and utilise funding currently available to address challenges. HKPC earlier unveiled eight initiatives to help SMEs expand their Mainland domestic and overseas markets and production lines, offering them staunch support with the industry. HKPC's SME One Fund Fair aims to give SMEs and startups one-stop access to information on funding schemes serving their needs on market expansion, innovation and technology R&D or transformation retraining, in furthering development on new markets and enhancing productivity."
Also, as a partner of SMEs, HKPC welcomes the HKSAR Government's announcement of a new round of SME support measures, and would pledge its continuous support for SMEs in overcoming their challenges. The two-day SME One Fund Fair aims to make it easier for SMEs in locating funding schemes, by bringing together nearly 50 such schemes administered by governments and public organisations in Hong Kong and the GBA (Dongguan, Zhongshan and Zhuhai). Comprising three designated zones, namely "Finance and Business Development", "Startups and Innovation Industry", and "GBA and Specific Industries", as well as success case sharing, seminars and advisory services, the Fair hopes to become an one-stop information platform for SMEs and startups. Representatives of all SMEs and startups are welcome to visit the Fair which is free admission.
- Ends -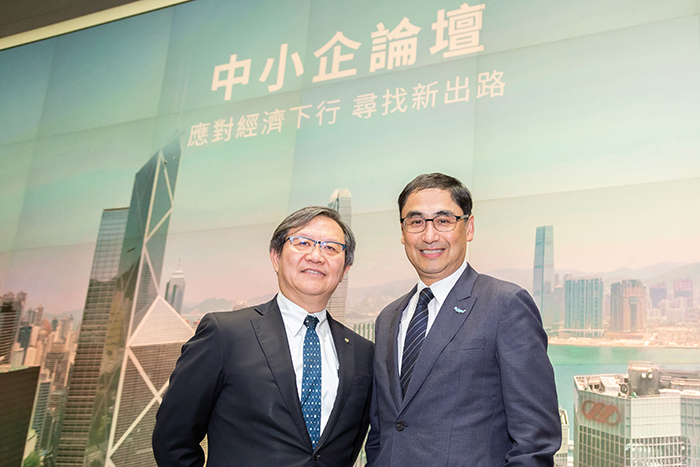 HKPC Chairman Mr Willy Lin (left) and Executive Director Mr Mohamed Butt attended the SME Symposium organised by the Commerce and Economic Development Bureau of the HKSAR Government. As a guest speaker at the event, the former revealed that HKPC would be holding the inaugural SME One Fund Fair on 16 and 17 September to help businesses identify funding schemes best fit their needs.