Smart manufacturing in full swing for PRD electrical appliance industry
To strengthen industry awareness of re-industrialization, HKPC and the Hong Kong Electrical Appliance Industries Association led 30 Hong Kong manufacturers on a visit of the air conditioning system smart factory of Midea Group at the Nansha Industrial Park, Guangzhou, and the headset factory of Fujikon Industrial Holdings Limited at Humen, Dongguan.
Midea Air Conditioning has made hefty investment on the upgrading of its equipment and production management system through wholesale implementation of automation, intelligentization, informatization and lean manufacturing. Featuring two smart production lines and a production line with near 200 robots, its factory at Nansha has a command room to monitor customer order, production plans, material adjustments, manufacturing flow, and product delivery all the time, thereby significantly raising the efficiency and quality of automated production.
The study mission visits the air conditioning system smart factory of the Midea Group at Nansha Industrial Park, Guangzhou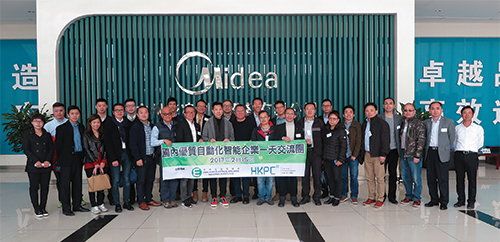 Fujikon has successfully implemented the electronization of its production equipment and gradually introduced automated production at its plant. It also explored in depth the model, solutions and technologies of Industry 4.0 of Germany in order to demonstrate through real examples that to implement Industry 4.0 does not require massive financial investment. Positive results can be achieved with lesser amount of investment by integrating the actual situation of the business and its products and, more importantly, establishment of good rapport between the management and staff.
Fujikon leads the way on implementing the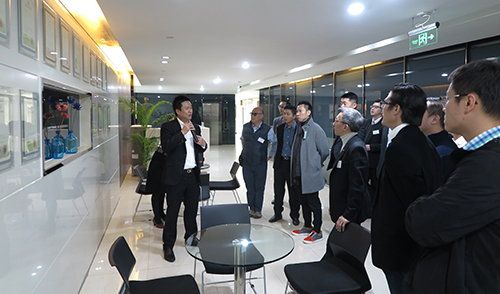 HKPC will organize technical seminars, training courses and study missions for manufacturers from different industries to benchmark the successful examples of business automation and speed up the process of intelligentization. For more information about the service, please contact HKPC.