Smart Mobility Begins with Smart Infrastructure
A critical requirement for the realisation of smart city is that a series of "Smart Infrastructure" for the sharing of big data in people movement, logistics and transport is needed to provide the backbone in supporting the flow of the city's big data. Last year, the Hong Kong Government released the "Hong Kong Smart City Blueprint" and proposed a list of "Smart Mobility" measures to ease traffic congestion in Hong Kong. For the future development of "Smart Mobility", where should we start with Hong Kong's smart infrastructure?
Inter-communication between People, Vehicles and Roads
As an advanced information and communication hub with a matured information technology infrastructure, Hong Kong's 4G network coverage exceeded 90% and came fourth in the world. However, the city's public data is too fragmented, making the collection of real-time traffic information very difficult. Also, data collection efficiency is compromised when faulty sensors fail to be detected and repaired expeditiously. These two issues are the biggest barriers in promoting "Smart Mobility".
Therefore, for the successful implementation of "Smart Mobility", the first and foremost is the creation of "Internet of Vehicles" (IoV) that allow people, vehicles and roads to communicate with each other. Through the sharing of real-time traffic data, it will create synergy effects and enhance traffic efficiency and safety. Apart from networks and sensors in the vehicles, the smart infrastructure on the roads is also integral to the collection and transfer of IoV big data. A solution is to upgrade the traditional street lamps into smart ones to create an "Internet of Things" across the city which will become an important starting point for the development of smart city.
Precise repair for smart street lamp
There are over 140,000 street lamps in Hong Kong's 2,100-kilometre road network. Currently, they are turned on or off automatically with light sensors. As for checking street lamp failures, it relies on visual inspection by patrolling staff.
After the upgrade, the new smart street lamps can transfer real-time current and voltage data through the wireless network for remote monitoring of the lamps' operation. Apart from being able to turn on and off the street lamps with mobile devices, the operators can also notify engineering personnel through the system to promptly repair the faulty lamps, shorten their downtime and ensure road safety. For example, as a typhoon may damage many street lamps, the system enables the engineering department to monitor the situation in real-time in a safe environment and do the repair works once the weather becomes stable. It means the days of having to wait until the typhoon goes away before visual inspection can proceed are over.
The present smart street lamp solution uses LoRa (Long Range Low Power Wide Area Network) wireless technology with a transmission radius of around 10 to 15 kilometres. Despite its low power consumption and anti-interference features, the signals may be blocked by buildings. However, a new solution is now in place to solve this limitation and overcome an urban environment filled with high-rise buildings. Hence, even in a densely populated city like Hong Kong, the signals can travel freely.
HKPC added wireless network to over 200 street lamps in San Po Kong and Kai Tak to significantly enhance their management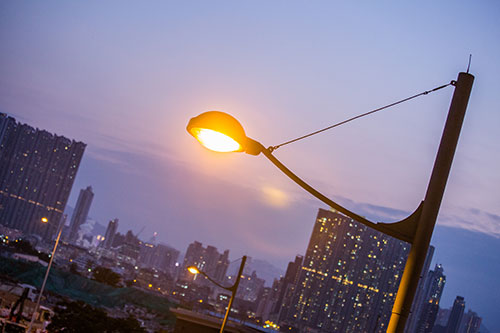 Lighting up the city with Big Data
Apart from making street lamp management smarter, the smart street lamp can also become a smart infrastructure. By adding cameras and sensors to it, real-time city public data such as traffic flow, pedestrian flow, road environment, weather can be collected for sharing with government departments and transmission to IoV which can enhance road design and alleviate traffic congestion.
The data collected from the advanced version of smart street lamp has various applications, for example, road congestion monitoring, traffic signal system analysis, automatic issuance of illegal parking summons, air quality index, roadside rubbish bin capacity monitoring. With more data being involved, it must be implemented with 5G mobile services whom launch in Hong Kong is expected in 2020 at the earliest. Its introduction will offer a hi-speed reliable transfer network for real-time data sharing.
Smart street lamps that light up city roads and run deep into the city network are one of the keys to smart city development. Hence, their future growth is set to pick up pace. According to US clean technology research company Navigant Research, the number of smart street lamps fitted around the world is expected to rise from 6.3 million in 2017 to 73 million by 2026, while another US market research firm Transparency Market Research has forecasted the market size of smart street lamp to expand from US$1 billion in 2017 to US$10 billion in 2022. As more smart street lamps are being put up in North America, Europe and other Asia-Pacific regions, there will be enormous demand for advanced optical parts, communication equipment, lamp controllers, electronic sensors and software. If Hong Kong companies can seize on the opportunities early, they will be able to grab a share of this multi-billion dollar market.
Dr Lawrence Poon
General Manager, Automotive Platforms and Application Systems R&D Centre
Hong Kong Productivity Council