HKPC Conference Introduce Latest 3D Applications in Fashion and Apparel Industries
(Hong Kong, 10 July 2019) The Hong Kong Productivity Council (HKPC) today hosted the "Reindustrialisation 3D Technology and Application Conference - Fashion Industry and Apparel Industry" with the funding support of the Innovation and Technology Fund of the HKSAR Government, to encourage local fashion and apparel companies to apply 3D technology to grasp new business opportunities.
Addressing the Conference, Mr Edmond Lai, Chief Digital Officer of HKPC, said, "As a pioneer in applying 3D technology for local use, HKPC is obligated to promote and encourage the adoption of 3D fashion technology in manufacturing operations. 3D technology helps fashion designers optimise prototyping workflow at higher efficiency and lower cost. Through 3D-body scanning and other modernised operations, manufacturers can produce very accurate and custom 3D mannequins, cutting down on paper designs and physical samples."
"Also, 3D printing and computer-aided design helps drastically improve the way fashion labels develop their products, enabling them to produce customised apparels to tap the growing market for personalised products. The significance of 3D technology to empower Hong Kong's fashion makes today's conference a leading light for the industry to meet the international standards, and stay competitive and vogue in the marketplace," he added.
At the Conference, an ensemble of top-notch 3D technology experts and corporate users from the United States, Canada, Australia, Italy, Greece, Republic of Korea and Hong Kong introduced the latest global development and successful applications of 3D technology in the fashion and apparel industries, covering all aspects from design, production to retail.
Concurrent to the event was a showcase of the latest 3D technology solutions and product prototypes by 3D technology providers; fashion, textile and garment industry organisations; and university and tertiary institutions. Visitors can get first-hand experience of 3D applications from design to manufacturing process.
The Conference is a highlight of a project to promote the wider adoption of 3D design and technology in Hong Kong fashion and apparel industries. The project also includes technical workshops on 3D design, computer-aided manufacturing and 3D digital prototyping; and industrial application seminars on the use of 3D software in intimate apparel, shoes and bags, knitwear, and cut and sewn clothing. The activities will commence in August to help enhance the understanding of industry practitioners of 3D technology and its benefits for the industry.
HKPC has been on the forefront in supporting the local industries to adopt 3D technology in their operation. On top of raising their awareness of the proliferating innovative applications of the technology, it also offers a full array of 3D printing-related services such as industrial and mechanical designs and rapid prototyping by different methods and materials.
- Ends -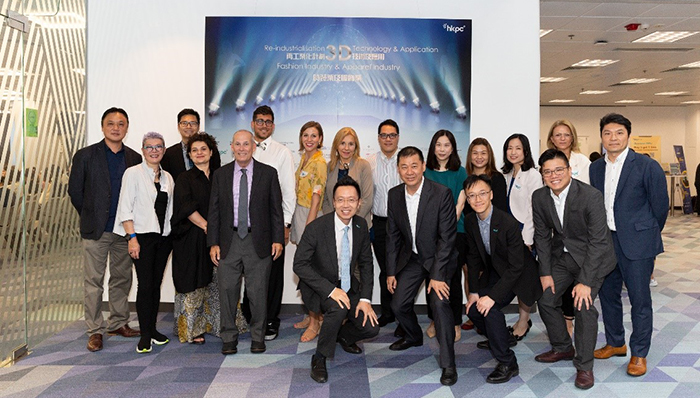 Mr Edmond Lai, Chief Digital Officer of HKPC (front row, centre) poses for a group photo with guest speakers and supporting organizations of the International Conference on Latest 3D Technology and Application in Fashion and Garment Industry.