HKPC's New EMC Chamber Helps Hong Kong Grasp New Opportunities in Industrial IoT Market
(Hong Kong, 14 March 2019) The Hong Kong Productivity Council (HKPC) has invested about HK$7 million recently on a new electromagnetic compatibility (EMC) chamber and upgrading the existing facilities of its EMC Centre. This new facility will help local IT, electronic and electrical appliance manufacturers comply with the latest EMC testing standards of Europe and the United States.
Being the only facility in Hong Kong to offer both radiated emission and immunity testing for industrial "Internet of Things" (IoT) products, the new chamber enables companies to conduct such tests locally. As a result, they can benefit from shorter product development time and enhance their prospects of gaining a foothold in the international market.
Dr Lawrence Cheung, Director (Technology Development) of HKPC, said, "IoT has been extensively applied across different sectors in recent years, for example, smart living, transport, medical and healthcare, manufacturing, allowing millions of products to communicate with each other. As these products involve a large amount of wireless transmission, they must strictly comply with technical and import requirements to avoid mutual interference."
He added, "To promote Hong Kong's reindustrialisation and guide business upgrading and transformation to grasp smart city opportunities, HKPC has built the new EMC Chamber with its own resources to help the industrial IoT products of the local electronic industry to comply with the latest testing standards of the Federal Communications Commission (FCC) Part 18, Part 15 B and C testing standards; European Union's Radio Equipment Directive (RED); and CISPR 32 testing for IT equipment and CISPR 35 testing for multimedia equipment of the CE marking of Europe. Also, through facility sharing, other testing and certification bodies can perform the entire test locally, raising service efficiency without heavy investments."
Covering 1,000 square feet, the new EMC Chamber can cater its radiated immunity testing three times faster than before, due to its fully automated operations with 10 times more accurate when compared to existing facilities. It can address the EMC issues of industrial IoT equipment, medical and healthcare devices, high-end wireless communications systems. The new EMC Chamber is expected to double the number of tests being performed at EMC Centre.
- End -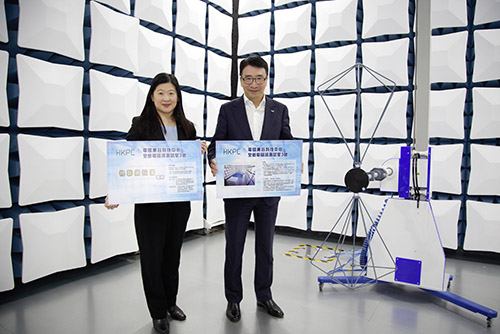 Dr Lawrence Cheung, Director (Technology Development) (right), and Ms Angel Wong, Senior Engineering Manager (Automotive and Electronics) of HKPC, showcase the new EMC Chamber of HKPC, the only facility in Hong Kong to offer both radiated emission and immunity testing for industrial "Internet of Things" products, helping local IT, electronic and electrical appliance manufacturers to comply with the latest EMC testing standards of Europe and the United States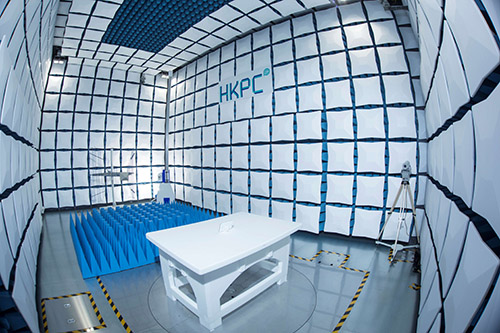 The new EMC Chamber of HKPC is the only facility in Hong Kong to offer both radiated emission and immunity testing for industrial "Internet of Things" products, helping local IT, electronic and electrical appliance manufacturers to comply with the latest EMC testing standards of Europe and the United States