Over 470 Companies & Organisations Commit to Building a Happy Workplace
(Hong Kong, 11 April 2019) Jointly organised by the Promoting Happiness Index Foundation (the Foundation) and the Hong Kong Productivity Council (HKPC), the seventh "Happiness-at-Work Promotional Scheme" (the Scheme), aiming to promote the cultivating of a happy workplace, today recognised more than 470 local companies and organisations that are committed to building a happy workplace culture under the Scheme.
Professor Sophia Chan, Secretary for Food and Health of the HKSAR Government was the guest-of-honour at the Scheme's 2019 label presentation ceremony, which was successfully held at the Jockey Club Auditorium of the Hong Kong Polytechnic University. She was accompanied by the Foundation's President, Dr Edward Chan; Co-Chairmen, Dr Dennis Ng, Dr Roy Chung, Mr Irons Sze, Mr Johnny Yeung and Mr Samson Chan; Chief Executive Officer (Honorary), Dr Helen Chan; Honorary Presidents, Dr Allen Shi and Dr Aaron Shum; and Chief Digital Officer of HKPC, Mr Edmond Lai.
The Scheme aims to encourage local companies' and organisations' creation of a happy workplace culture, improving the happiness level of Hong Kong people at work. To date, 457 companies and 18 organisations have successfully applied for the "Happy Company" and "Happy Organisation" labels this year. Among them, 134 companies and 13 organisations are also awarded the "Happy Company 5+" and "Happy Organisation 5+" labels for their participation of the Scheme for five or more successive years.
Speaking at the ceremony, Dr Edward Chan said, "Through hosting series of seminars, workshops and competitions, the Foundation acts as a facilitator to promote positive values and healthy living, facilitating members to develop healthy lifestyles and build positive attitudes among the workforce."
Mr Edmond Lai said, "As a 'Happy Organisation' of the Scheme, HKPC highly believes in the importance of building a pleasant and friendly workplace environment for its staff. This helps enterprises fulfil their social responsibilities, as well as create positive momentum among staff members, enhance motivation, creativity, and thus improve competitiveness for corporations."
Successful applicants of the "Happy Company" and "Happy Organisation" labels must have implemented measures or activities in at least two out of the four areas that enhance "Happiness-at-work" in the past year. These include "Corporate Love", "Corporate Insight", "Corporate Fortitude" and "Corporate Engagement". The "Happiness-at-work Promotional Scheme 2019" is still open for application until the end of August. For more details, please visit www.hkworkhappiness.com.
- End -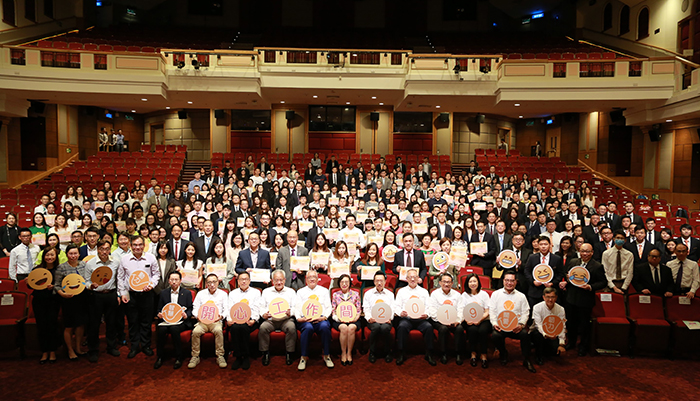 Professor Sophia Chan, Secretary for Food and Health of the HKSAR Government (front row, centre); accompanied by Dr Edward Chan, President of the Promoting Happiness Index Foundation (front row, fifth from left); and Mr Edmond Lai, Chief Digital Officer of HKPC, pose for a group photo with other officiating guests and representatives of 'Happy Companies' and 'Happy Organisations at the 'Happiness-at-Work Label' presentation ceremony 2019'