HKPC Inspires Industry to Transform with Innovation
(Hong Kong, 6 November 2019) The Hong Kong Productivity Council (HKPC) published and tabled at the Legislative Council today its 2018/19 Annual Report, reviewing HKPC's efforts in promoting reindustrialisation, advanced manufacturing, smart living, Industry 4.0 (i4.0) and Enterprise 4.0 (e4.0), to continue providing the necessary support for the development of the local industry.
Under the theme of "Inspiring Transformation", the 2018/19 Annual Report outlined HKPC's continuous commitment to assist the transformation and upgrading of local SMEs in moving forward with innovative mindset and technologies. Total service income in 2018/19 amounted to HK$468 million; a total of 944 new consultancy projects were undertaken with 70% of new customer orders coming from SMEs; also, i4.0 and e4.0 services grew 34% and 21% respectively.
Mr Willy Lin, Chairman of HKPC, shared, "Design thinking, enriched with a strong sense of innovation, is the first step in creating one's own brand. It is also a crucial first step for enterprises in the quest for i4.0 and e4.0. For 2018/19, I am truly thrilled that the HKPC team has successfully localised the concept of i4.0 and e4.0, and assisted the first Hong Kong enterprise in achieving 1i Maturity Level, representing the successfully preliminary integration of real-time data into business operations, production and logistics processes. This is testament to Hong Kong's capability to develop high-value added and efficient land use manufacturing processes on the ground."
HKPC set up The Hatch – INC Invention Centre with Germany's Fraunhofer IPT to inspire enterprises changing from OEM, ODM to OBM – establishing the brand and technical skill of their own. Also, it joined hands with major productivity centres in the Guangdong-Hong Kong-Macao Greater Bay Area (GBA) to form the GBA Productivity Promotion Service Alliance, as knowledge and technology exchange platform, leveraging the opportunities arising from the GBA. A series of seminars started from June this year.
Apart from providing advanced technologies and innovative services, HKPC is also the implementer for several HKSAR Government funding schemes. Among them, the Dedicated Fund for Branding, Upgrading and Domestic Sales (BUD Fund), Cleaner Production Partnership Programme and Recycling Fund having released HK$1.126 billion cumulative approved funding during the year.
Mr Mohamed Butt, Executive Director of HKPC, said, "As a trustworthy partner to local SMEs, we pledge to offer the most well-suited assistance to our partners on the ground to prepare for the challenges ahead. We are happy to continue with our support to the HKSAR Government as the implementation agent for the BUD Fund, further providing assistance to the SMEs and startups in grasping the development opportunities in ASEAN and GBA markets. Throughout the past few months, we witnessed the rising number of applications to BUD Fund. This is a solid proof of how our industry needs such funding schemes to back their plans."
HKPC is also committed to serving the community through GLink. Now with over 100 members, it is the first gerontechnology platform in Hong Kong launched in January this year, to facilitate exchanges between supply and demand sides. Inno Space also hosted 56 startups and STEM education-related events as well as more than 140 safety and machine training sessions.
To download HKPC 2018/19 Annual Report, please visit the HKPC website: www.hkpc.org
- Ends -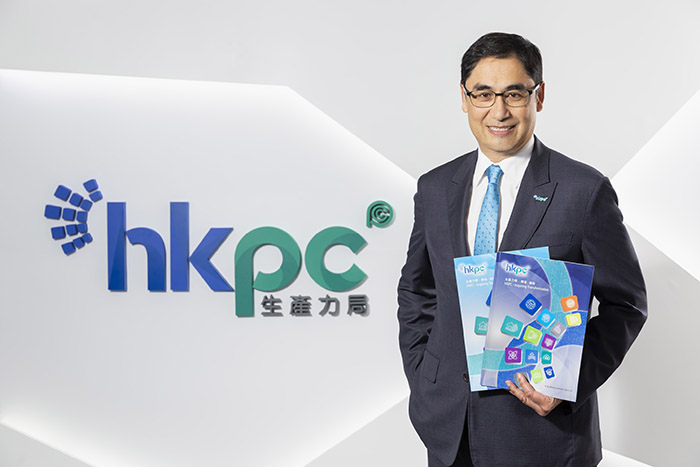 Mr Mohamed Butt, Executive Director of HKPC, unveils HKPC 2018/19 Annual Report