Information Security Summit 2019 Explores SMEs' Use of New Technologies against Cyber Threats
(Hong Kong, 23 October 2019) The Hong Kong Productivity Council (HKPC), in conjunction with ten local information security bodies, is hosting the "Information Security Summit 2019 – Over the Horizon Cyber Security" today and tomorrow at the Hong Kong Convention and Exhibition Centre in Wanchai, to keep local enterprises abreast of the latest development trends and technologies of information security, urging them to be vigilant against new cyber security threats arising from the growing use of smart technologies. The opening ceremony today was officiated by Mr Victor Lam, Government Chief Information Officer of the HKSAR.
Mr Mohamed Butt, Executive Director of HKPC, said, "The need to adopt more advanced cyber security technologies and practices has become more pressing in recent years as a result of the growing use of Internet of Things devices in smart manufacturing and smart city, worsening trend of financially-motivated cyber crimes, and global boom of data privacy regulations, which generally make data breach notification mandatory for all organisations, irrespective of industry, size and location."
He continued, "Besides leveraging the Hong Kong Computer Emergency Response Team Coordination Centre (HKCERT) to promote higher cyber security awareness, HKPC has also been working to provide effective solutions for the industry to realise cyber security measures. It is launching the new 'Security-as-a-Business' (SECABiz) consultancy service to help both businesses and software developers to secure their systems as well as adding cyber security components to its Industry 4.0 maturity assessment co-developed with Germany's Fraunhofer Institute for Production Technology."
The Summit this year addressed the theme of "Data Protection against Emerging Threats using Incubating Technologies". The two-day conference would feature information security experts from the Canada, Japan, the UK, the US and Hong Kong, as well as representatives from renowned multinational corporations; sharing insights on cyber security applications and potential security threats in the realm of IoT, artificial intelligence, 5G, etc. A series of workshops are also starting from October 2019 to January 2020, to introduce new techniques and solutions on data protection and big data analytics in cloud and mobile environment.
Apart from the annually-held Summit, HKPC and HKCERT have launched various new initiatives and services in recent years to raise cyber security awareness of Hong Kong. These include conducting "SSH Hong Kong Enterprise Cyber Security Readiness Index Survey" to assess the readiness of Hong Kong companies to combat today's cyber threats; compilation of the "Seven Habits of Cyber Security for SMEs" to improve cyber defence of SMEs through seven cyber security aspects; and security awareness briefings for those industries processing a lot of personal data, for example travel, hotel or retail industries.
- Ends -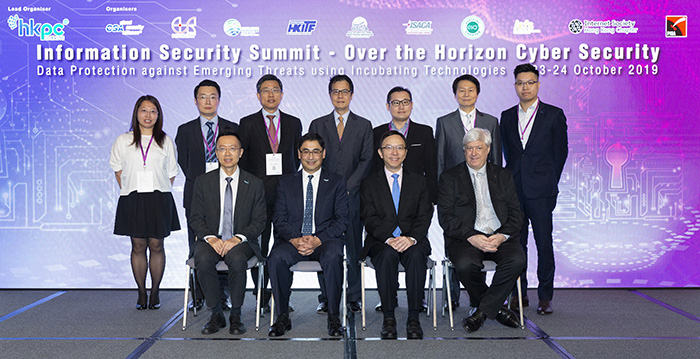 Mr Victor Lam, Government Chief Information Officer of the HKSAR (front row, second from right); Mr Mohamed Butt, Executive Director of HKPC (front row, second from left); Mr Edmond Lai, Chief Digital Officer of HKPC (front row, first from left), and Mr Dale Johnstone, Chairman of the Information Security Summit 2019 Organising Committee, pose for a photo with representatives of the Summit organisers at the opening of the Summit