Recycling Fund Launches a Series of Enhancement Measures to Further Support Recycling Industry
The following is issued on behalf of the Recycling Fund:
(Hong Kong, 17 January 2019) The Advisory Committee on Recycling Fund (RFAC) announced a series of enhancement measures to address the rapid market changes and challenges confronting the recycling industry. The initiatives include a new rental subsidy scheme; increase maximum upfront payment amount during the early phase of projects, extend rental expense under Enterprise Support Programme, launch of new Standard Project - $1M (SP-$1M) Programme and simplify application procedure.
The RFAC, Environmental Protection Department (EPD) and Hong Kong Productivity Council (the implementing partner and the Secretariat of the Recycling Fund, hereafter as "the Secretariat") completed the initial phase of a mid-term review, with a comprehensive review on the implementation of the Recycling Fund (the Fund), collecting views from the recycling industry and various stakeholders on the existing arrangement and areas of improvement of the Fund. Upon thorough deliberation, the RFAC decided to introduce a series of enhancement measures with major details summarised as follows: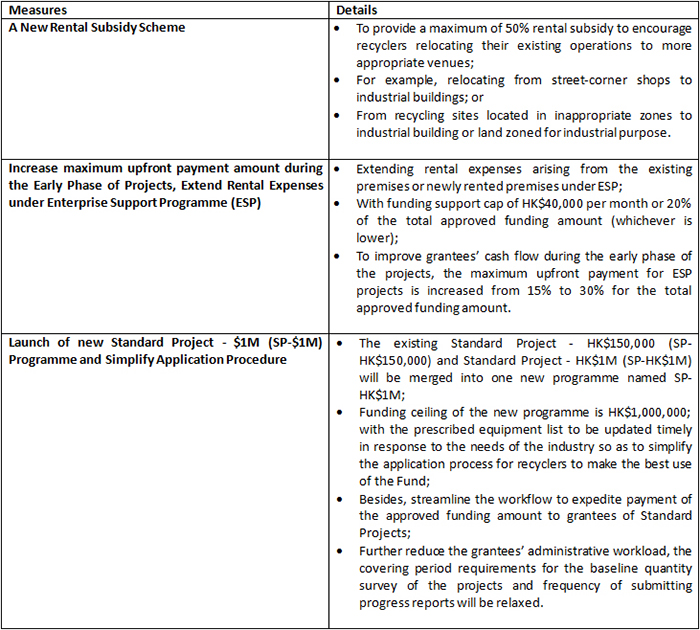 Since the launch of the Fund in October 2015, the RFAC has been maintaining close liaison with the local recyclers in order to gauge their views of the industry.  The mid-term review on the Fund will be continued.   To date, RFAC has approved funding for 215 applications, among them 170 projects are either in progress or ready to start, involving a total funding of about HK$130 million.
Applications for the Fund are accepted all year round. For more information, please visit the Fund website: www.recyclingfund.hk; contact the Secretariat at (852) 2788 5658 or email enquiry@recyclingfund.hk
- The End-