HKPC Generates Socio-Economic Impacts – Striving to Make Smart Smarter
(Hong Kong, 29 October 2021) The Hong Kong Productivity Council (HKPC) published today its Annual Report 2020-2021, which was tabled at the Legislative Council on 27 October. Themed "Make Smart Smarter", the HKPC Annual Report 2020-2021 highlighted HKPC's mission in creating more values and yielding higher productivity for SMEs through state-of-the-art technologies so that they become smarter in the new normal of the post-pandemic era. The theme also symbolised HKPC's commitment to transforming ideas into practice and unleashing potential to the fullest. In the reported year, the consolidated service income reached HK$566 million; a total of 600 new integrated services projects were implemented with 66% of new orders coming from SMEs; also, industry 4.0 related services recorded a 29% income growth.
Mr Willy Lin, Chairman of HKPC said, "Aiming to better deliver HKPC's overarching services, we conducted an extensive consultation between end 2020 and early 2021 to set new vision, mission and values, along with a three-pronged strategy and six major development directions. All aim to further position ourselves as a key driver of innovation and technology (I&T) in Hong Kong, bolstering Hong Kong as the international I&T hub. We set sight to embark on a relentless technology drive to beef up productivity of local enterprises, evolving around these goals to generate values for industries and create a more liveable smart city."
Within the year, HKPC conducted 83 Voice of Industry consultation meetings to gauge views on HKPC's future business directions from different sectors, attended by 113 associations and organisations representing over 46,000 members. Besides, HKPC established the Funding Scheme Branch to consolidate resources to implement secretariat service for supporting government funding schemes and SMEs. Approved funding totalled HK$3.2 billion within the year of which HK$1 billion had been disbursed to applicants.
Mr Mohamed Butt, Executive Director of HKPC said, "Our R&D efforts contributed to the control of COVID-19, namely the home-grown 'kNOw Touch – Contactless Elevator Control Panel' solution, which is cost-effective and can be easily applied to different elevator types and brands without significant modification of mechanical structures. As one of the approved projects under ITC's Public Sector Trial Scheme, it shone on the international stage by winning the Gold Medal with Congratulations of Jury, the highest accolade of the 2021 Geneva International Exhibition of Inventions, together with the 'Electrically-Assisted Free Forming Technology for Customisation of Sheet Metal Parts' and 'Qoolmate'. To HKPC, winning an award is a bonus, timely technological innovation with a view to bringing positive impact to the community and making people's lives more fulfilling is the core."
HKPC is committed to promoting reindustrialisation by assisting industries in different sectors to transform to high value-added production and establish smart production lines. This was evident with our successful launch of "OWL" intelligent production line for a local enterprise, developed with funding from the R&D Cash Rebate Scheme of the HKSAR Government. Integrating innovative technologies such as IoT, AI, big data, intelligent robots and smart production processes to unleash production opportunities of i4.0, this highly flexible and fully automated production line would certainly scale up productivity. As reindustrialisation heads in the right direction, HKPC vows to do more in this vein to scale up Hong Kong's intelligent manufacturing and burnish the 'made in Hong Kong' brand.
To keep enterprises abreast of the latest government funding scheme information and application details, the HKPC-operated "SME ReachOut" organised two large-scale free online government funding fairs, "Fund Fair GO Online" and "SME ReachOut: Fund Fair Everywhere 2020", with overwhelming response. HKPC will continue to put more effort in helping SMEs looking for suitable funding. In the reported year, HKPC also debuted the first virtual recruitment fair to provide job opportunities for fresh graduates and experienced talent, and enhanced the Summer and Winter internship programmes for young tech talent to acquire actual work experience and enrich Hong Kong's tech talent pool.
In response to industry views and the needs of Hong Kong enterprises, HKPC has devised six key development areas, including intelligent manufacturing, reindustrialisation, smart and green living, FutureSkills, digitalisation and cyber security, and SME and startup support. We strive to assist different sectors in realising transformation, while enabling enterprises to achieve high-value productivity and sustainability under the digital era and new normal. Together, let's Make Smart Smarter!
To download HKPC Annual Report 2020-2021, please visit the HKPC website: https://www.hkpc.org.
- Ends -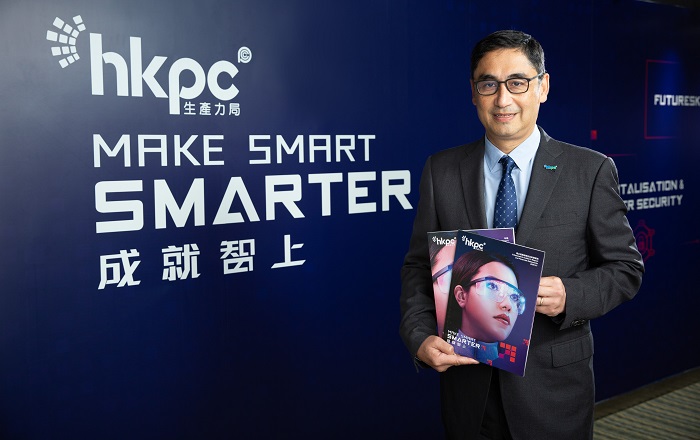 Mr Mohamed Butt, Executive Director of HKPC, unveils HKPC Annual Report 2020-2021.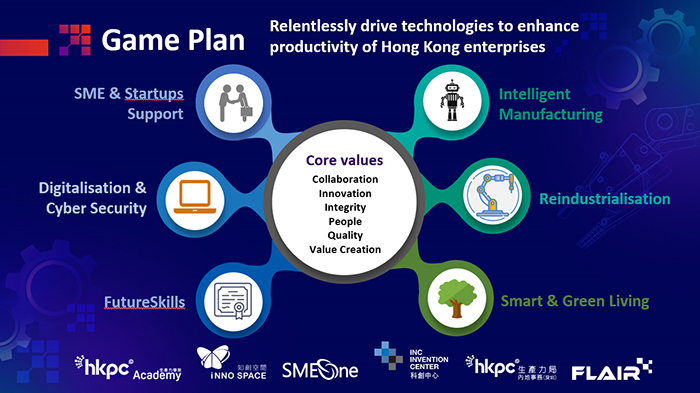 The six key development areas of HKPC, including intelligent manufacturing, reindustrialisation, smart and green living, FutureSkills, digitalisation and cyber security, and SME and startups support.