HKU-SCF FinTech Academy, HKPC and Cyberport Join Forces to Study FinTech Talent Gap Aiming to Provide Guidance for Financial Services Industry to Enhance FinTech Talent Pool
(Hong Kong, 3 November 2021) The University of Hong Kong - Standard Chartered Hong Kong 150th Anniversary Community Foundation FinTech Academy (HKU-SCF FinTech Academy), Hong Kong Productivity Council (HKPC), and Cyberport jointly announced today at the Hong Kong FinTech Week 2021 a partnership to conduct a FinTech Talent Study (the Study), examining the current and upcoming demand of FinTech talents for financial services industry in Hong Kong. The Study will also explore the challenges and supports needed from the market related to FinTech talents, and provide an overview of its current supply.
To echo with the "Fintech 2025" Strategy unveiled by the Hong Kong Monetary Authority, the Study will certainly double down the efforts to chart the route to a FinTech future and maintain Hong Kong's competitiveness as an international financial centre.
This industry-wide Study is expected to engage over 200 organisations ranging from large enterprises to SMEs, covering not only "traditional" financial sectors such as Banking, Payment Solution and Cybersecurity, but also digital-native FinTech companies such as InsurTech, RegTech, FinTech for Environmental, Social, and Governance (ESG) companies and start-ups, and virtual banks. It will also conduct deep-dive focus groups with industry professionals and company executives to identify employers' needs and support required for FinTech talent development, as well as their perception and preference to local FinTech talents.
FinTech is not only driving innovation in financial services globally, but also changing the talent requirement and driving demand for FinTech talents. In light of the rapid technological advancement and shortage of talents in the sector, acquiring the right talent and expanding the talent pool become more essential to business growth. The Study is expected to offer in-depth insights into the importance of technical and professional competencies to the FinTech talent development in the city. It will also serve as a guide for the financial industry and education sector to set up long-term talent development strategy and give direction to address the FinTech talent gap.
Professor Tak-Wah Lam, Executive Director of the HKU-SCF FinTech Academy and Head of Department of Computer Science in HKU, said, "HKU has a world-class research team in FinTech and is devoted to groom FinTech talents through interdisciplinary FinTech programmes and the HKU-SCF FinTech Academy. This Study will enable us to deep dive into the core competencies in FinTech as demanded by the Financial industry and to gain the insights to develop better FinTech curricula and shape the future for FinTech talents."
Mr Edmond Lai, Chief Digital Officer of HKPC, said, "FinTech has evolved as one of the most impactful digital transformation financial trends. Financial SMEs and start-ups have to reorient their strategies to attract, retain and nurture FinTech talents in order to benefit from this trend and seize opportunities for business growth. Through this Study, HKPC aims to facilitate Hong Kong's FinTech talent development and transformation into a global FinTech hub. HKPC is also committed to nurturing talents, providing FutureSkills development courses and training programmes for employees to achieve self-enhancement for innovation and transformation, and for companies to cope with future talent demand."
Ir Eric Chan, Chief Public Mission Officer of Cyberport, said, "Cyberport is committed to fostering the FinTech development of Hong Kong and supports FinTech talent nurturing. Our talent cultivation initiatives include the 'Cyberport University Partnership Programme', 'Financial Practitioners FinTech Training Programme', 'FinTech Anti-epidemic Scheme for Talent Development' as well as internship and training programs. This Study will help the industry identify FinTech talent needs and ensure effectiveness of our talent cultivation effort to better serve the industry. We are delighted to see that the Study will cover start-ups. The insights will help higher education institutions and professional bodies develop respective curriculums. It will facilitate the talent acquisition of start-ups for their scale up journey."
The report of the Study is targeted to be completed in the first quarter of 2022. For more information, please contact the HKU-SCF FinTech Academy at fintechacademy@cs.hku.hk.
The second HKU-SCF FinTech Academy Scholarship Presentation Ceremony also took place at the same occasion. This year, a total of 11 HKU students with outstanding academic performance in Bachelor of Arts and Sciences in Financial Technology [BASc(FinTech)] , Master of Science in Financial Technology Data Analytics [MSc(FTDA)] and Master of Science in Computer Science (Financial Computing Stream) [MSc(Cs) Financial Computing Stream] have been awarded with scholarships from the Academy. Undergraduate students will receive an entrance scholarship of HK$50,000, while postgraduate students will receive HK$60,000. These scholarships in FinTech is one of the initiatives of the HKU-SCF FinTech Academy established in April 2020 with a HK$60M support from the Standard Chartered Hong Kong 150th Anniversary Community Foundation.
- Ends -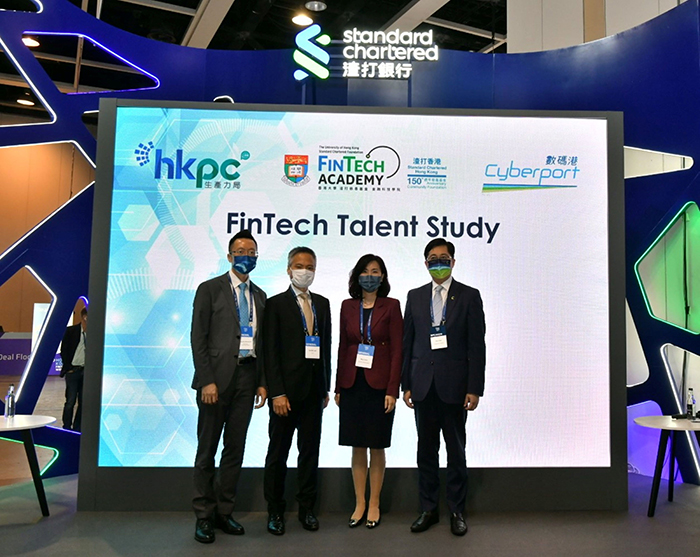 Prof Tak-Wah Lam, Executive Director of the HKU-SCF FinTech Academy (second from left); Mr Edmond Lai, Chief Digital Officer of HKPC (first from left); and Ir Eric Chan, Chief Public Mission Officer of Cyberport (first from right) announced today at the Hong Kong FinTech Week 2021 a partnership to conduct the FinTech Talent Study. Ms Mary Huen, Co-chair of the HKU-SCF FinTech Academy and Standard Chartered's Chief Executive Officer for Hong Kong (second from right), welcomed the Study as an industry representative. She said the findings of the Study would serve as a useful reference for the banking industry to adjust its talent training strategies, which will contribute to the sustainable development of the financial sector.