HKPC's Reindustrialisation and Smart Manufacturing R&D Feats Win Most at HKIE MIS Industry Award 2021
(Hong Kong, 2 August 2021) The Hong Kong Productivity Council (HKPC) is delighted to announce that the ingenuity of its manufacturing, industrial and systems (MIS) engineering professionals has been recognised at the "HKIE MIS Industry Award 2021", winning six awards in total with 2 Gold, 1 Silver, 3 Bronze. These included two Gold Award triumphs in two key categories: Reindustrialisation and Smart Manufacturing with the "OWL" Intelligent Production Line for high-tech safety control devices and the C2M – Intelligent Manufacturing Application for Mass Customised Jewellery Production respectively.
Organised by the MIS Division of the Hong Kong Institution of Engineers (HKIE), the Award aims to recognise the excellent achievements of relevant industries in Hong Kong in enhancing their manufacturing productivity, product quality and innovation in real industrial cases. This year, it includes three award categories: Reindustrialisation Award, Smart Manufacturing Award and Innovation Award; each with gold, silver, bronze and merit awards. HKPC is proud to attain two gold awards in two key categories, Reindustrialisation and Smart Manufacturing, which are both key driving forces of the new economy.
Mr Willy Lin, Chairman of HKPC, said, "My congratulations go to our team for the accolades. These awards are staunch acknowledgment by fellow peers from the field of MIS engineering of the dedication and efforts of HKPC talent in coming up with innovative tailor-made solutions for different industry sectors of Hong Kong. We thank HKIE for their recognition of our efforts, and the Innovation and Technology Commission for their funding support on reindustrialisation and smart manufacturing that help realising the successful implementation of these intelligent production lines and systems. We pledge to continue to give our best to improve the city's technological excellence and to contribute towards its development as an international innovation and technology centre, as supported by the National 14th Five-Year Plan."
The award presentation ceremony was held at the HKIE headquarters in Causeway Bay on 31 July 2021. For more information regarding the HKIE Award, please click https://sites.google.com/view/hkie-mis-industry-award-2021.
Moreover, two papers, Development of an AI-based Decision-making System for Goods Allocation and Production Order Planning for Smart Supply Chain, and, Application of Data Mining & Analytic Technology on Intelligent Customized Shoes Design for the Elderly, by HKPC have won earlier the CAD Outstanding Paper Award on Artificial Intelligence Technology and Outstanding Paper Award on Data Science and Analytic, an international paper award jointly organised by the Control, Automation & Instrumentation (CAD) Division of HKIE and Institute of Measurement and Control (InstMC), to encourage engineers and researchers to publish their works and advance in their professional fields promoting engineering advancement.
Details of HKPC's winning projects at "HKIE MIS Industry Award 2021" as follows:

- Ends -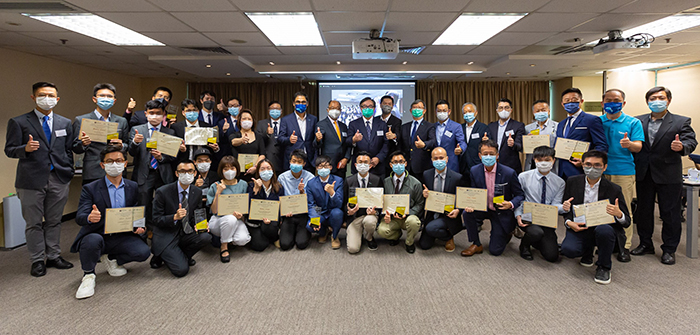 HKPC Chairman, Mr Willy Lin (Eighth from Right, back row), and Executive Director, Mr Mohamed Butt (Twelve from Right, back row), celebrated with the Council's manufacturing, industrial and systems (MIS) engineering talents at the "HKIE MIS Award 2021" award ceremony on 31 July 2021 after the group won six awards in all three categories, including two Gold Awards, one Silver Award and three Bronze Awards.