Extraordinary Summer Jobs! HKPC Summer Intern "InnoTalents" Showcase Results of Amazing Transformation Giving Hong Kong R&D and Industrial Sectors a Youthful Boost
(Hong Kong, 18 August 2021) The Hong Kong Productivity Council (HKPC) held its summer intern graduation ceremony today. This year, the internship programme has been upgraded while its graduation ceremony broke with tradition as the intern "InnoTalents" took charge to showcase their amazing transformation. The summer internship programme this year has attracted overwhelming response with around 1,400 applications received. Ultimately, 38 "Best of the Best" interns from 11 local and six overseas universities including the likes of the University of Hong Kong (HKU), The Chinese University of Hong Kong, Hong Kong University of Science and Technology as well as UK's University of Cambridge, Imperial College London, were selected.
Mr Mohamed Butt, Executive Director of HKPC, said, "The unstoppable wave of innovation and technology (I&T) has swept through the world in recent years. The pandemic has also propelled the market application of the adoption of new technologies such as Internet of Things, robotics, real-time monitoring, and automated systems. All of them require research as support. Talent is undoubtedly the most essential element of I&T which is why HKPC is attaching great importance to talent training and is committed to equipping young people with the necessary future job skills to cope with future trends at work. We have specifically arranged the interns to attach to departments outside their own academic fields - nine in total including Smart City Division, Green Living and Innovation Division, the newly-added Robotics and Artificial Intelligence Division, Compliance and Internal Audit Office, etc. This year, the summer interns also have the opportunity to participate in workshops jointly organised by HKPC and the MIT Hong Kong Innovation Node for the first time which offered them unique practice opportunity and research and development (R&D) experience."
One of the interns, Athena Ho, who is studying information systems at HKU, said, "The experience has changed my perception of an internship programme. Interns are simply not handling tedious office tasks. There are so many opportunities for me to get out of the office and participate in field trips and workshops. For example, visits to reindustrialisation projects such as the OWL intelligent production line, intelligent automated GMP product packaging system at Po Sum On, smart egg waffle making system have served as an eye-opener for me to witness the actual realisation of R&D."
Jensen Tong, an engineering student at the University of Cambridge, UK, said, "The series of field trips and training enables me to understand better the latest development of R&D industry and learn about the application scenarios of artificial intelligence, big data, robotics technologies, stimulating my interest in I&T and inspiring my creativity to conceive unique innovations."
Meanwhile, Hayden Lee who is studying business management at Lancaster University, UK, said, "Today, I finally graduated. Never in my wildest dreams that at HKPC apart from performing R&D works, there has also been the chance to organise an event. From ideating, planning to implementation, everything at the graduation ceremony is done by ourselves. It has greatly enhanced my teamwork and management skills which is an unforgettable experience."
Ms Eliza Ng, Chief People & Culture Officer of HKPC, said, "The interns this year are no longer just empty talk. During the internship, they have the chance to experience first-hand the results of our R&D projects and 'reindustrialisation'. The interns also go on job shadowing with the management to sample their hectic work life and strengthen their understanding of business management for nurturing all-round InnoTalents."
HKPC has been striving to develop I&T talents. This year, it has launched a new internship programme to broaden the I&T horizon of the interns and help pave the way for those interested in a career in R&D. At the graduation ceremony, the InnoTalents shared their takeaways from the two-month internship including field trips, job shadowing, training sessions, MIT workshops and graduation project competition. Also, HKPC will keep in touch with the interns and provide them with industry information through the "Intern Graduate Ambassador" programme, helping them to get ready to enter the R&D profession or even rejoin the HKPC family after graduation. Meanwhile, the next cohort of the Winter Internship Programme will be held from December this year to January next year. It will last four to six weeks with around 25 places available. Details will be announced in due course.
- Ends -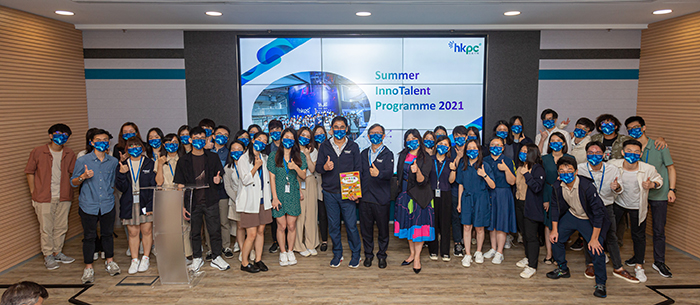 Mr Willy Lin, Chairman of HKPC (middle), Mr Mohamed Butt, Executive Director of HKPC (left) and Ms Eliza Ng, Chief People & Culture Officer of HKPC (right) received thank you card from student interns.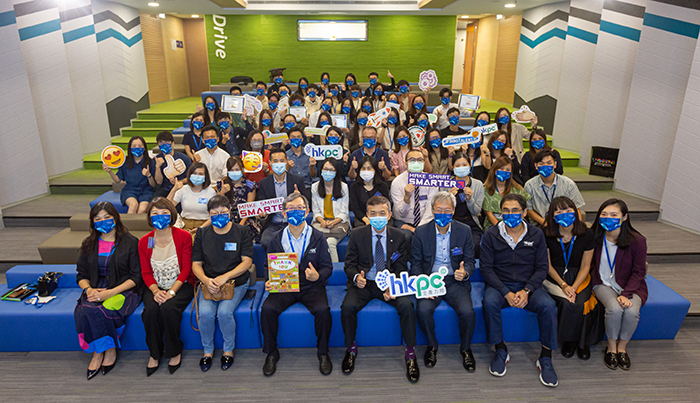 Dr Daniel Yip, Honorary President of Federation of Hong Kong Industries and Deputy Chairman of Vocational Training Council (front row, firth from left), joined Mr Willy Lin, Chairman of HKPC (front row, forth from left), Mr Mohamed Butt, Executive Director of HKPC (front row, third from right); and Ms Eliza Ng, Chief People & Culture Officer, HKPC (front row, first from left), to witness 38 Summer InnoTalents to plan their own graduation party and showcase their amazing transformation.