1st Animation Start-up Support Program
Name of the Client
Hong Kong Digital Entertainment Industry Association
Client's Profile
Established in 1999, HK Digital Entertainment Association (HKDEA) is a non-profit making trade body and is dedicated to the betterment of the local digital entertainment industry. 
Client's Needs
The animation industry in Hong Kong is predominated by SME. To further develop their businesses, the start-ups in the sector lack resources to develop good portfolio to showcase their creativity and technical capability. 
Our Solutions
HKDEA has partnered with HKPC to seek support of funding of Create Hong Kong for an industry support and training project. The project, launched in 2012, was a funding and mentoring program to nurture 20 animation start-ups who are immature in animation technology and production but have the potential to upgrade themselves to found or do better business in the animation industry, and to provide them with funding support, training and mentoring to produce original creative animation works. Assistance will be provided to these start-ups to promote the finished works to industry and enter overseas competitions. 
Value Created
20 animation start-ups selected, trained, and produced their animation works
For example, below is one testimony of Tree house, one of 20 companies. Tree house Studio joined 1st ASP in 2012. We were able to win some prizes with their work "HK Station". Those includes 15th Digicon 6 Creative Award (JAPAN) and, Hong Kong IFVA silver prize, and was featured in different online / broadcast media includes RTHK radio.
After the completion of the project, HKPC has helped us again, on linking MTR (as our award winning works was related to MTR station). In July 2014, MTR commissioned a 30 sec advertising animation to us. After two years of hardships, we were able to survive and our portfolio has grown even better. Thanks to HKDEA and HKPC for organizing this program!
1st Animation Start-up Support Program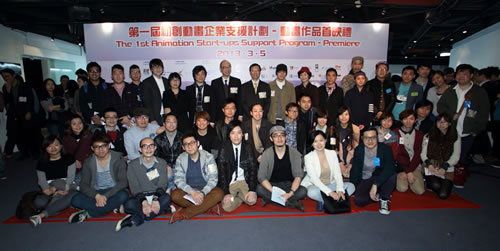 1st Animation Start-up Support Program
1st Animation Start-up Support Program