Keeping Gold Products Secure with IoT-based RFID Reading Chamber
Chow Tai Fook was the first jewellery manufacturer and retailer of the world to attach RFID labels on each of its products.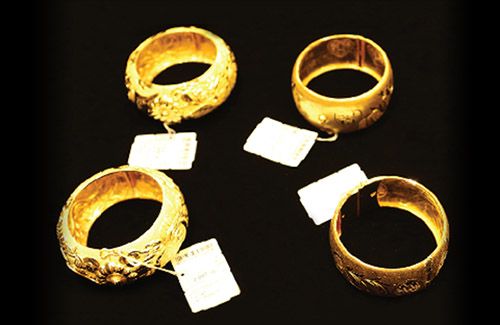 Gold products are small in size but carry high values. Any mismanagement can incur big losses. Hence, the industry is need of an effective product tracking and management solution to manage the thousands of products in the warehouse. HKPC has developed a RFID reading chamber for Chow Tak Fook's "Automated Logistics and Distribution Centre" which can monitor a large quantity of products in a short spate of time to ensure all the high-priced products in the warehouse safely protected.
Each product storage box in the distribution centre of Chow Tai Fook contains several hundred pieces of gold product. Moreover, the metal content of the jewellery can interfere with the transmission of RFID data. Hence, the RFID reading chamber needs to return accurate readings of the RFID labels of all the jewellery products under limited time which poise hefty technical challenges.
As RFID uses electromagnetic waves for remote monitoring, it is easy to be interfered by metals. Taking into account the technology's unique characteristic, HKPC designed an automated mechanical and electrical system and jointly developed a special RFID reader with experts. Having to deal with a series of factors such as different aerial designs and installation, power output, the speed of the system as well as product design and packaging, a RFID reading chamber was successfully tailor-made for Chow Tai Fook to solve the problems of product tracking and management following repeat testing and data analysis.
After manual handling, all product storage boxes must enter the RFID reading chamber for stocktaking before they can enter the warehouse. This helps Chow Tai Fook identify problems instantly and allow staff to address them promptly. Hence, the RFID reading chamber is the security core of the automated logistics and distribution centre. At present, several RFID reading chambers are already in use at the centre. They can greatly enhance the accuracy and security of Chow Tai Fook products in the warehouse.
A series of Internet of Things (IoT) solutions developed by HKPC has been successfully applied in production, equipment, logistics, warehouse and resource management as well as data collection and transfer, and status detection etc. The development and application of IoT technologies will facilitate the wider use of smart manufacturing. For more information, please contact us.
Major features of RFID reading chamber:
Higher efficiency with IoT technology
Less manpower needs with automated technologies
Realize product tracking and effective management
Accurate return with automatic stocktaking
Simultaneously read the RFID labels of over 100 products
Early problem detection for prompt remedial actions
Each product storage box contains several hundred pieces of gold products.