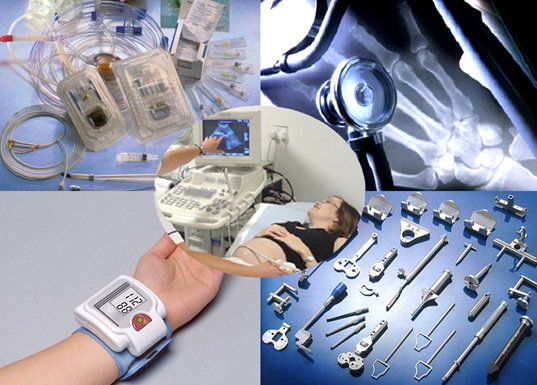 Introduction
With intense competition in traditional industries, many Hong Kong manufacturers are now looking for new investment opportunities, such as entry into the emerging medical and healthcare device industry. This market is potentially lucrative but also presents challenges. Products must comply with stringent international regulations and quality system requirements. Knowledge of the latest production processes and technologies is also required of manufacturers.
To help the industry rise to these challenges, HKPC provides a comprehensive range of consultancy and support services specifically designed for the sector. These services cover: 
Medical Engineering Technology
Medical System Application and Customization (e.g. Remote Patient Monitoring, Telemedicine)
Bio-signal / Physiological Signal Processing (e.g. Cardio-electro-signal)
Sensor and MEMS Technology (e.g. Blood Glucose Testing)
Medical Material Technology (e.g. Orthopaedics, Gynecology, Implantable Device)
Anti-bacterial and Surface Treatment Technology (e.g. Metal Surface Anti-bacterial)
Surface Treatment Technology Advanced Sterilization / Disinfection Technology (e.g. Plasma, Ozone)
IT Technology and RFID Technology
Medical Device Regulatory Support
USA FDA Pre-market Notification (510K) Application
EU Medical Device CE-Marking (Medical Device Directive)
Medical Device Good Manufacturing Practice (GMP / QSR)
Medical Device Manufacturing Quality System in Accordance with ISO13485
Risk Management for Medical Device Manufacturing in Accordance with ISO14971
Hong Kong Medical Device Administrative Control System
Process Validation and Risk Assessment
Medical Device Traceability and Recall Procedure
Product Development and Testing
Medical Electronics Safety Assessment in Accordance with IEC60601-1 (e.g. Electrical Safety, Mechanical Safety)
Medical Device Development and Design Control
Design Safety Evaluation
Product Performance Evaluation
Medical Grade Material Evaluation
Finite Element Analysis (FEA)
Product Failure Analysis
Sterilization / Disinfection Performance Evaluation
Microbiological Tests (e.g. Microbial Enumeration in Food, Medical Device and Cosmetic Product)
Manufacturing Technology and Environment
Critical Cleaning
Cleanroom Planning and Project Management
Powder Injection Moulding
Critical Component Pilot Production (Metal / Ceramic)
Click here to download the pamphlet on services for this industry.
Contact:
Ir Bryan SO
Tel: (852) 2788 5548
Fax: (852) 2788 6338
Email: This email address is being protected from spambots. You need JavaScript enabled to view it.