"SME ReachOut - 2021 Fund Fair PLUS" Offers Information on 50+ Government Funding Schemes and Supporting Programmes to Help SMEs Achieve Turnaround and Embrace the New Normal
(Hong Kong, 6 August 2021) With the pandemic bringing uncertainties to the global economy, the business environment for local SMEs is filled with challenges. The Hong Kong Productivity Council (HKPC) will organise the large-scale free exhibition "SME ReachOut – 2021 Fund Fair PLUS" from 11 to 13 August at HKPC Building. The event aims at providing SMEs and startups with information on over 50 government funding schemes and supporting programmes for application so as to stay competitive in the market and overcome the challenges.
The event will play host to 20+ seminars, close to 35 exhibition booths plus one-on-one free consultation on-site so that SMEs will have access to first-hand funding information to cope with a variety of business needs. Over 20 government departments, public organisations and SME service platforms from Hong Kong and the Greater Bay Area (GBA) will join the event to provide various support services.
Mr Willy Lin, Chairman of HKPC, "Hong Kong companies are flexible. When facing the new normal, they are not only exploring new markets actively, but also catching up with the pace of digital transformation. Despite the epidemic, HKPC does not stand down from forging ahead with SMEs. Through technical support, fund matching, and research and development talent training, we are assisting companies in all aspects to deal with business difficulties and embrace new opportunities. The 'SME ReachOut – 2021 Fund Fair PLUS' this year is bringing timely assistance to enterprises, enabling them to fully grasp the latest information on government funding schemes to alleviate their urgent needs and get well-prepared for the re-opening of the control points and global economic recovery in the future."
The three-day event is free of charge and is organised by SME ReachOut, a dedicated team the Government has commissioned HKPC to operate. The theme of this year is "Make Your Fund Count for the New Normal", aiming to help SMEs find the appropriate funding schemes to prepare themselves under the new normal and overcome business challenges. At the thematic seminars on 11 and 12 August, Secretary for Commerce and Economic Development, Mr Edward Yau, and Secretary for Innovation and Technology, Mr Alfred Sit, will explain government policy directions and exchange with industry professionals. They will analyse the advantages of doing business in Hong Kong and the development opportunities in the GBA, as well as the effective use of innovative technologies and funding schemes to enhance enterprise's competitiveness.
The exhibition booths cover different businesses including finance and business development, startups and creative industries, overseas and Mainland market promotion, export trade, etc., providing assistance for various industries. Apart from being able to register online for the on-site seminars, the participants can also make advance booking for one-on-one consultation services with SME ReachOut and other government funding schemes to understand and match suitable funding in order to be fully prepared for future business expansion.
HKPC cordially invites SMEs and startup entrepreneurs from all industries to participate in "SME ReachOut – 2021 Fund Fair PLUS". Pre-booking is now open on http://u.hkpc.org/2021fundfairplus-27. For enquiries, please contact SME ReachOut through "2-in-1 Hotline Services" telephone: (852) 2788 6868; or email: sme_reachout@hkpc.org.
- Ends -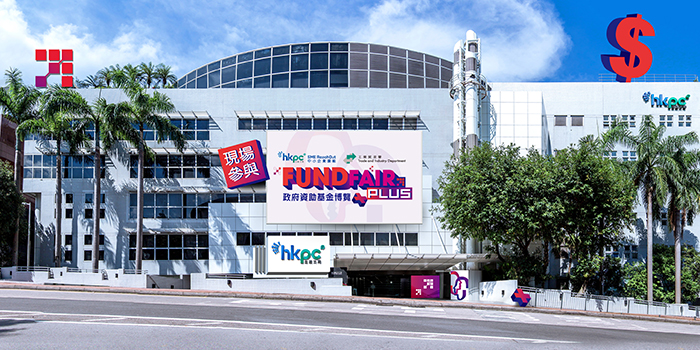 HKPC will organise "SME ReachOut – 2021 Fund Fair PLUS" from 11 to 13 August to provide application information on various government funding schemes for SMEs and startups to cope with different business needs.