HKPC Chairman and Executive Director Introduce "ForeSight 2022" Top Political, Business and I&T Leaders Join Forces to Explore GBA Opportunities and New I&T Trends
(Hong Kong, 10 November 2021) The Hong Kong Productivity Council (HKPC) is committed to disseminating market intelligence and development trends through various platforms to show local companies the path for continuous growth and strategies to keep pace with an increasingly competitive business climate. Mr Willy Lin, Chairman of HKPC and Mr Mohamed Butt, Executive Director of HKPC attended the media event today and expressed that HKPC understands the pain points of SMEs and aims to provide them valuable insights on new business opportunities through organising the thought provoking signature event 'ForeSight 2022'." It will be held as an online forum on 18 and 19 November 2021 under the theme of "Dare to Innovate, Capture the Opportunities". An ensemble of political, business and innovation and technology (I&T) heavyweights and industry leaders will share with the audience the upcoming market trends, I&T development prospects and business opportunities with a forward-looking vision. It will cover four hot topics, including the macroeconomic outlook, challenges and opportunities in the National 14th Five-Year Plan and Greater Bay Area (GBA), reindustrialisation, and strategies on net zero carbon emissions.
The theme of the first panel discussion will be "Macroeconomic Outlook: Opportunities under the Innovative Normal". Four heavyweight guest speakers, including Mr Bernard Chan, Convener of the Non-Official Members of the Executive Council (ExCo) of the HKSAR; Mr George Leung, CEO of Hong Kong General Chamber of Commerce; Professor Francis Lui, Adjunct Professor, Professor Emeritus and University Honorary Fellow, Department of Economics of the Hong Kong University of Science and Technology; and Mr Willy Lin, Chairman of HKPC, will share insights on Hong Kong's macro economy and help SMEs to turn challenges into opportunities under the new normal and grasp future economic development trends.
The second panel discussion entitled "Future Blueprint Analysis: Manage Opportunities and Challenges of 14th Five-Year Plan and GBA" will have four star guest speakers including Mr Joseph Yam, Non-official Member of ExCo of the HKSAR; Professor Witman Hung, Deputy to the 13th National People Congress of the People's Republic of China and Principal Liaison Officer for Hong Kong of The Shenzhen Qianhai Authority; Ms Pam Mak, President of the Hong Kong Small and Medium Enterprises Association; and Mr Mohamed Butt, Executive Director of HKPC, who will deliver their insights for Hong Kong companies to give full play to their unique advantages to seize the opportunities in the emerging Mainland market, such as the Qianhai Shenzhen-Hong Kong Modern Service Industry Cooperation Zone, and on the potential challenges and opportunities of integrating the development of GBA.
The third panel discussion themed "Dreams Come True: The Realisation and Development of Reindustrialisation" has invited Ms Rebecca Pun, Commissioner for Innovation and Technology of the HKSAR Government; Dr Joseph Wong, Executive Director of the Hong Kong Design Centre; Dr Alex Wong, Chairman and Chief Executive Officer of King's Flair International (Holdings) Limited; Mr Artist Wong, Founder of Arts and Design Consultancy Limited and CK One Limited; and Mr Edmond Lai, Chief Digital Officer of HKPC. They will join together to explore the series of support measures for I&T under the Policy Address and offer their predictions on new industry trend with most potentials for reindustrialisation.
The event will conclude with a panel discussion on "Going Green: Carbon Neutral Strategies and Measures to Reduce Carbon Emissions". Mr Wong Kam-Sing, Secretary for the Environment of the HKSAR Government, together with Ms Clara Chan, Deputy Chairman of the Federation of Hong Kong Industries; Ms Grace Hui, Head of Green and Sustainable Finance of the Hong Kong Exchanges and Clearing Limited; and Dr Lawrence Cheung, Chief Innovation Officer of HKPC, will discuss the latest corporate environmental, social and governance (ESG) trends and analyse the approach for companies to formulate carbon reduction strategies in order to achieve carbon neutrality and become a green enterprise.
"ForeSight Series" which made its debut last year is a thought-provoking signature event featuring government, business and I&T leaders, industry heavyweights and technology experts, with the aim to help local companies capture the essence of impending economic development and technology trends in the year ahead. HKPC sincerely invites industry professionals to participate in "Foresight 2022". For more details about the event, please visit the website: https://foresight2022.hkpc.org.
Details of "ForeSight 2022"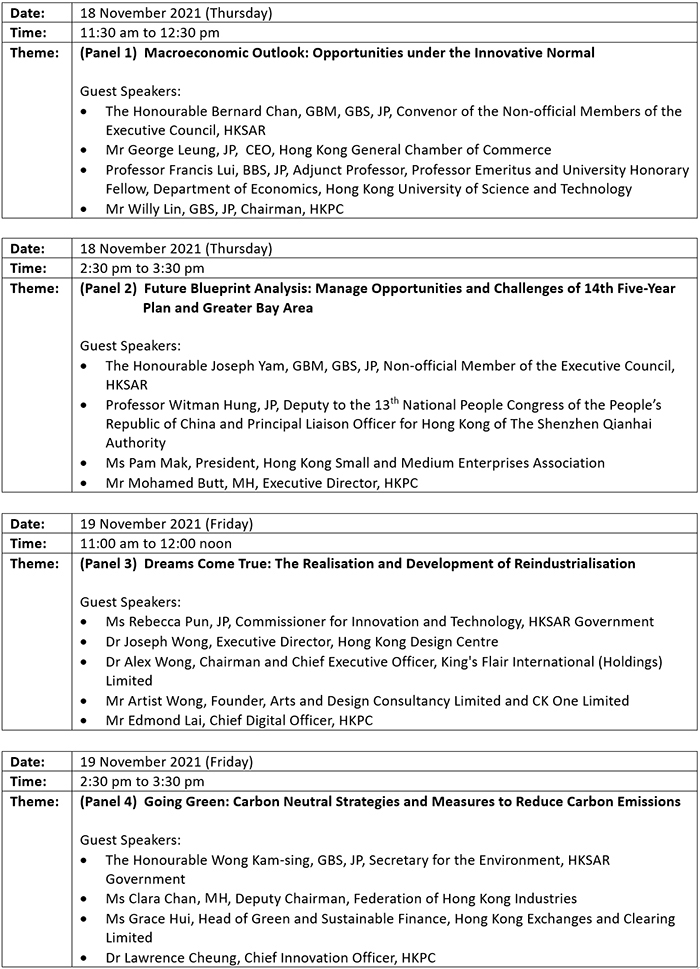 - Ends -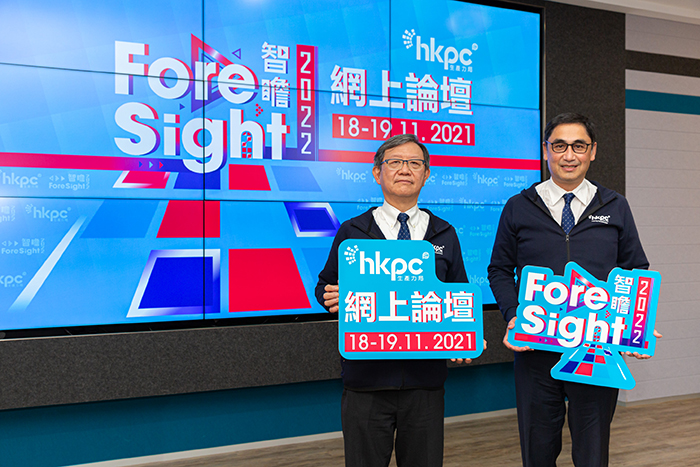 HKPC Chairman, Mr Willy Lin, and Executive Director, Mr Mohamed Butt, share the latest trends in innovation and technology (I&T) and development opportunities for SMEs in the Greater Bay Area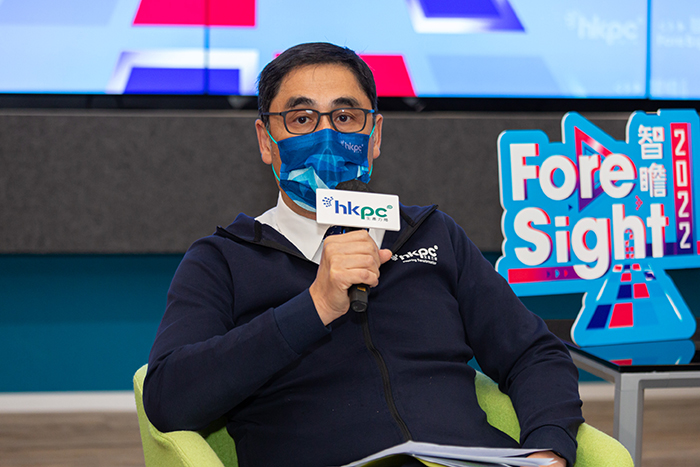 Mr Mohamed Butt, Executive Director of HKPC, introduces the key highlights and speaker line-up of "ForeSight 2022" forum to held on 18 and 19 November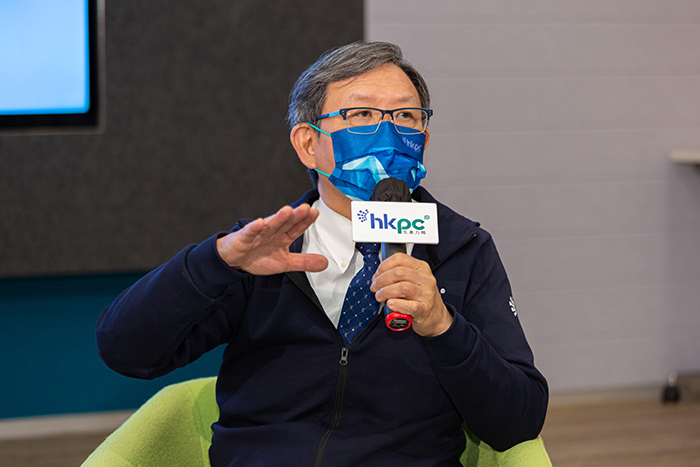 Mr Willy Lin, Chairman of HKPC, states that HKPC welcomes the government's active promotion of I&T development