HKPC Announces Standard Chartered Hong Kong SME Leading Business Index Q3 2021 Results Overall Index Scores a Three-Year High; SMEs Regain Business Confidence under Economic Recovery
(Hong Kong, 27 July 2021) The Hong Kong Productivity Council (HKPC) today announced the "Standard Chartered Hong Kong SME Leading Business Index" ("Standard Chartered SME Index") for Q3 2021. The Overall Index has risen for three consecutive quarters, this time by 4.4 to 46.6, hitting a three-year high since Q3 2018. The results show returning business confidence of the local SME community amid the gradual easing of COVID-19 situation in Hong Kong and SMEs' optimism about the global economy.
All five component sub-indices* rose in Q3, among which "Global Economy" recorded the most significant surge again, from 43.6 to 52.8 which made an impressive leap from the low of 7.9 in the same period last year. Together with "Recruitment Sentiment" (50.9), these are the first two sub-indices to surpass the 50 neutral mark in the past two years. 8 of the 11 surveyed industries have recorded two-year high in their industry indices. "Information and Communications", "Real Estate", and "Social and Personal Services" are the best performing industries, with their respective indices all over 50.
On investment sentiment in the coming quarter, most SMEs are planning to spend more on "Information Technology" and "Product & Marketing Promotion". While 24% of SMEs plan to increase investment in "Information Technology", 20% SMEs would like to boost investment in "Product & Marketing Promotion" – both are one-year high. Meanwhile, 63% of SMEs surveyed expected an upcoming increase of "Raw Material Cost", which is 5% higher than the previous quarter.
Mr Edmond Lai, Chief Digital Officer of HKPC, said, "The pandemic situation in Hong Kong was pretty stable during the survey period. The Overall Index is experiencing a steady U-shape rebound with the outlooks of 'Global Economy' and 'Recruitment Sentiment' being positive. The survey shows that SMEs are flexing their muscles to pick up their business as fast as possible by increasing investment and expanding staff size. The Information and Communications and Accommodation and Food Services industries are notably planning to increase hires, a signal of which they may be preparing for economic rebound after possible resumption of cross-border travel. HKPC has always been committed to cultivating innovation and technology (I&T) talents in Hong Kong by offering a series of FutureSkills courses through the HKPC Academy. We strongly urge employees to seize the chance to equip FutureSkills in gearing up for the competition in the labour market during digital age."
Mr Kelvin Lau, Senior Economist, Greater China, Global Research, Standard Chartered Bank (Hong Kong) Limited, said, "The latest SME Index readings confirm that Hong Kong's business conditions have not only further improved over the past quarter, but that such positive momentum is also likely to carry over to the start of second half 2021, boding well for more economic recovery ahead. We also see confirmation of such recovery being broad-based, with all five component sub-indices and eight of the eleven industry sub-indices posting quarter-over-quarter increases. All this, however, is still not enough to push the overall SME Index back above the 50 neutral mark for now, meaning that SMEs are generally still operating below normal levels."
"Looking at the breakdown, the improvement in 'Global Economy' sub-index remains the biggest driver of positive sentiment this time, while 'Recruitment Sentiment' sub-index also returned above 50 for the first time in two years, boding well for Hong Kong's unemployment rate to extend its recent nascent downtrend. That said, improving global prospects have not translated into much better confidence among manufacturers, exporters and financial services providers this time; rather, we see prior underperformers such as retailers playing further catchup – probably supported by the continued unwinding of social distancing measures since the first quarter. Our latest survey results also reflect still-high cost pressures, especially those for raw materials; that has in turn pushed prices higher for finished goods and services, confirming that some pass-through of higher costs onto buyers is indeed happening," Mr Lau continued.
The survey also explored SME's perspective and planning in response to the economic recovery in 2021. 7% of SMEs surveyed said their business fared better than before the pandemic, while 31% of them claimed to be close to returning to the pre-pandemic levels. The business performances of Information and Communications, Real Estate and Financing and Insurance industries are the most satisfactory amid the pandemic, with Accommodation and Food Services being the most affected – 81% SMEs surveyed reported a setback in business. The most popular actions taken proactively by SMEs to achieve business rebound are "Product/service improvement", "Market promotion", "Online expansion", "Productivity enhancement" and "Use of digital technology".
The survey found that SMEs are placing high hopes on "Global economic recovery", "Re-opening of cross-boundary travel with the Mainland" and "Relaxation of social distancing measures" to fully grasp the opportunities from market recovery. Yet they also saw the constraints of severe worldwide epidemic situation and geopolitical tensions, with 37.3% of SMEs surveyed indicating their intentions to raise price to cope with inflation and offset cost pressure.
Digital economy has become a major driving force for economic growth. Many traditional businesses are accelerating their digital transformation process to cater new consumption habits. Among those SMEs who intend to invest on digitalisation, "Online platform", "Cloud service", "Purchase/upgrade of IT system", "Nurture digital talents" and "Cyber security" are the top five digitalisation areas, of which 56% of them expect to spend more than HK$50,000 on digital transformation in next 1 year.
Mr Lai said, "Hong Kong is rapidly developing into an international I&T centre supported by the National 14th Five Year Plan. SMEs must take the initiative to expedite digital transformation for the full benefit. We are delighted to see that more than half of the SMEs surveyed are investing in digital transformation, although over 40% of them only have budget of HK$50,000 or below in next 1 year. Digital transformation can be very flexible nowadays. Cloud-based Software as a Service (SaaS) is a popular choice in the market and can be subscribed according to demand and volume of usage, which greatly saves the R&D and capital expenditures. HKPC is endeavoured to assist SMEs to achieve digital transformation according to their ideal budgets. Our Digital Transformation Starter Kit offers handy packages of selected IT solutions that fit the business needs of SMEs, allowing them an easy and cost-effective ride on digitalisation."
"Making wise use of government funding schemes such as the Technology Voucher Programme can further maximise SME's digitalisation budget. SME ReachOut, operated by HKPC, helps address SME's needs on funding scheme applications, providing assistance on fund matching by multi-prong approach such as online promotion and on-site consultation in major business districts in Hong Kong," Mr Lai added.
Conducted in June 2021, the survey successfully interviewed 815 local SMEs. The "Standard Chartered SME Index" report is available at HKPC website: https://u.hkpc.org/scbi-en.
For more details about HKPC's intelligent manufacturing solutions to help SMEs leverage i4.0 and advanced technologies to enhance productivity and "Make Smart Smarter", please visit the dedicated website: https://smarter.hkpc.org/en/index.html.
*The five component sub-indices are "Recruitment Sentiment", "Investment Sentiment", "Business Condition", "Profit Margin" and "Global Economy".
- Ends -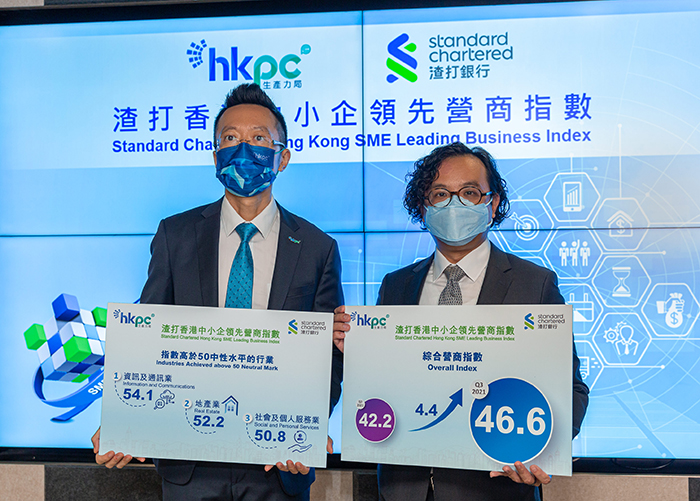 Mr Edmond Lai, Chief Digital Officer of HKPC (left); and Mr Kelvin Lau, Senior Economist, Greater China, Global Research, Standard Chartered Bank (Hong Kong) Limited (right), announced the Q3 overall Index standing at a three-year high of 46.6 at the press conference of "Standard Chartered Hong Kong SME Leading Business Index Q3 2021". The results show a return of business confidence of SMEs and three industries namely Information and Communications, Real Estate and Social and Personal Services have scored an industry index of over 50.