HKPC Announces Standard Chartered Hong Kong SME Leading Business Index Q1 2022 Overall Index Shows Steady Trend More than 90% Surveyed SMEs Have Insufficient Knowledge about ESG
(Hong Kong, 25 January 2022) The Hong Kong Productivity Council ("HKPC") today announced the "Standard Chartered Hong Kong SME Leading Business Index" ("Standard Chartered SME Index") for the first quarter of 2022. The Overall Index dropped marginally by 0.1 to 48.1, showing a stable business confidence among local SMEs amid the pandemic.
Of the five component sub-indices*, "Recruitment Sentiment" (53.4) and "Investment Sentiment" (51.2) kept their rising trend with both scoring above 50, while "Global Economy" (44.2) had a significant drop of 6.7 due to the global pandemic. Of the three major industry indices, "Import / Export Trade & Wholesale" (42.1 à 45.5) and "Manufacturing" (42.9 à 44.9) increased simultaneously but "Retail" (49.7 à 46) saw a downturn. The "Information and Communications" industry recorded the biggest growth this quarter with a leap of 7.3 (48.9 à 56.2).
Cost pressures continue to haunt SMEs as the proportion of respondents expecting increases in raw materials cost, staff salary and number of staff in the coming quarter is higher than last quarter. 72% of SMEs expected raw materials to be more expensive, which is the sixth consecutive quarterly increase; 29% of SMEs expected overall employee salaries to rise, 13% higher than the previous quarter. More than 30% of SMEs planned to raise the prices of goods/services to relieve cost pressures. For the investment outlook, 11% of SMEs foresaw an increase in overall investment in the coming quarter. Most SMEs planned to increase investment in "Online Marketing Promotions" and "Facility and Equipment" (both with 24%), followed by "Research and Development" with 23%.
E-commerce was being surveyed for the first time in the Standard Chartered SME Index. Results revealed that 9% of SMEs expected an increase on proportion of turnover on e-commerce in the next quarter, while "Accommodation and Food Services" industry has the highest proportion expecting an increase (22%), followed by "Manufacturing" (15%), "Information and Communication" (14%) and "Finance and Insurance" (14%).
Mr Edmond Lai, Chief Digital Officer of HKPC, said, "We can see from the results that SMEs were sitting on the fence over the business environment in the new year. As the fifth wave of the COVID-19 (Omicron) has become severe recently, apart from those industries directly stricken by the recent tightening of anti-pandemic measures, the actual short-term business strategy of other industries will depend on the development of the pandemic. The market as well as the pandemic are ever-changing. SMEs must be well equipped and prepared for the unexpected. Adopting digital technology and online business models are good ways to enhance resilience and respond fast to new changes."
Mr Kelvin Lau, Senior Economist, Greater China, Global Research, Standard Chartered Bank (Hong Kong) Limited, said, "Our Overall Index started the new year with a pause in its modest recovery trend, having risen five of the prior six quarters. The biggest drag on headline sentiment this time was from the 'Global Economy' sub-index, reflecting rising Omicron uncertainty; hiring and investment appetite however stayed supported for most industries at the time of the survey (early- to mid-December). We also believe China's shift in policy focus to becoming more supportive of growth also likely contributed to the quarter to quarter improvements among our Manufacturing, Trading, IT and Financing respondents. That said, since entering 2022, the industry-best 'Accommodation and Food Services' sub-index (for a second straight quarter no less) appears vulnerable to the more recent retightening in social distancing measures amid rising local Omicron cases. Renewed threat of COVID disruption also puts risk on the downside for the already-weakening sentiment across services sector SMEs including 'Real Estate', 'Retail', and 'Transportation'. Profit margins also look to stay under narrowing pressure for longer given the still-accelerating rise in cost, notwithstanding the ease to raise final prices. All this means that Hong Kong SMEs could be in for a bumpy start to 2022."
The survey also looked into SMEs' perspective and planning on Environmental, Social and Governance (ESG). Joining the global shifting towards green economy, the Central and Hong Kong governments have formulated clear roadmaps for carbon reduction. Multinational companies may in the future require SMEs along their supply chains to meet ESG requirements, and banks have been launching green and sustainable financial products. In addition, good corporate governance improves operational efficiency and avoids risks, and staff caring helps retain talents. For SMEs, ESG is an important building block of a sustainable business. 
Nonetheless, survey results revealed that 94% SMEs were not aware of or with insufficient knowledge about ESG. Only 9% of SMEs had put ESG into practice, and 83% SMEs had not felt the pressure to implement ESG. Talking about the benefits of ESG, 31% SMEs believed it can enhance company/brand image, followed by complying with government/regulation requirement (19%) and meeting with client expectation (17%).
Results also suggested that SMEs are experiencing challenges in implementing ESG – 64% SMEs said they were currently lacking manpower or capital to do so. Their top-3 most wanted support on ESG would be funding, industry guidance and human resource training.
Mr Edmond Lai, Chief Digital Officer of HKPC, said, "The rise of green economy, ESG and carbon reduction in recent years has coincided with the pandemic. It is understandable that SMEs may not be able to take ESG into account while trying to survive in business. Furthermore, there is likely a misunderstanding that only large corporates need ESG. Indeed, the influence of ESG on SMEs is becoming more considerable. For example, downstream suppliers that meet specific ESG requirements will be more favourable to international or local buyers, and eligible to obtain green loans. Outstanding environmental strategies, social responsibility and governance policies can also help companies win competitions and investors' confidence."
Mr Lai continued, "Green technology or digital transformation can help SMEs improve ESG performance. HKPC provides SMEs with a free online assessment on ESG and sustainability (http://u.hkpc.org/esg_sustainability), and one-stop ESG / Sustainability consulting service to assist SMEs in setting sustainability strategies, goals and solutions to enhance their ESG performance and capabilities. Through these, we bring together the power of SMEs to drive the development of a green economy, and enable SMEs to improve market adaptability."
Conducted in the first half of December 2021, the Standard Chartered SME Index survey successfully interviewed 817 local SMEs. The report will be available for download from HKPC website: https://u.hkpc.org/scbi-hk.
To learn more about HKPC's smart solutions to help enhance the productivity of SMEs with advanced technology in achieving Make Smart Smarter, please visit the dedicated webpage: https://smarter.hkpc.org.
*The five Sub-categories are "Recruitment Sentiment", "Investment Sentiment", "Business Condition", "Profit Margin" and "Global Economy".
- Ends -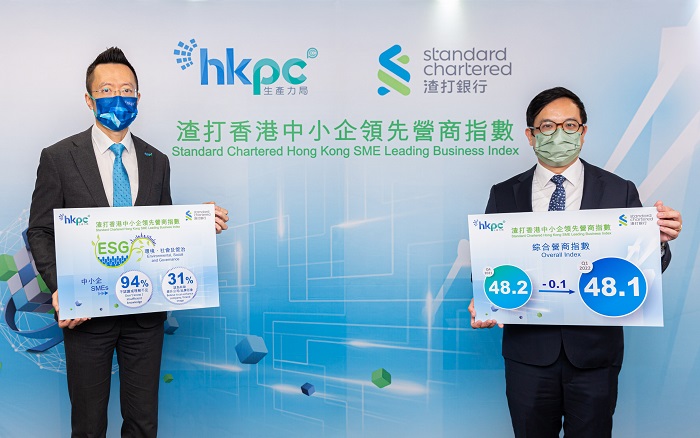 At the press conference of the "Standard Chartered Hong Kong SME Leading Business Index" for the first quarter of 2021, Mr Edmond Lai, Chief Digital Officer of HKPC (left), and Mr Kelvin Lau, Senior Economist, Greater China, Global Research, Standard Chartered Bank (Hong Kong) Limited ("Standard Chartered Hong Kong") (right), announced the Overall Index of 48.1, marginally dropping 0.1 from the last quarter. The thematic survey of this quarter revealed that most SMEs were having insufficient knowledge about ESG.