Video introducing the Smart Industry One (Chinese only)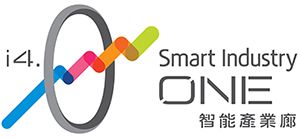 Global leading manufacturers has already embarked on "Industry 4.0" in its operation and supply chain with a view to cope with the latest market trend of personalization and small batch production. To catch up with the global market, manufacturers in Hong Kong should formulate its own "Industry 4.0" strategy as soon as possible. To prepare for implementing "Industry 4.0", manufacturers should reengineer their operating process and equip with automation and intelligent systems.
"Smart Industry One", the first of its kind demonstration centre in Hong Kong demonstrating the operation of "Industry 4.0" smart factory in one hub. It aims to promote the core technologies and operation of smart production to the public.
Objectives
To serve the industry, students and general public.
To promote better understanding of "Industry 4.0" to Hong Kong manufacturers, helping them to embark on "Industry 4.0" with a pragmatic approach for future development.
To promote "Industry 4.0" as the future development trend to students and general public through an experimental tour.
Opening hours
Monday to Friday, 9:30 a.m. to 6:30 p.m. (excluding public holidays)
Enquiry
2788 5384