Through green procurement, companies not only can reduce the environmental impact when purchasing products and services, but also can comply with environmental regulations, enhance green images and increase competitiveness.
Service details:
Developing green procurement policy and strategy – Advice on tailor-made strategies will be provided to incorporate green procurement into daily operations.
Recommending green specifications for products and services – Assist corporate clients to consider environmental factors by understanding their actual procurement processes and conducting market study.
Providing professional training on product sustainability, environmental directives and regulations – A variety of training on product sustainability and green procurement will be provided according to the specific needs of corporate clients.
We assisted the HKSAR Government to establish a "Product Green Specification Database" on the Environmental Protection Department (EPD) Website to help procurement officers and the general public to select environmentally preferable products and services.
Source: Environmental Protection Department's Website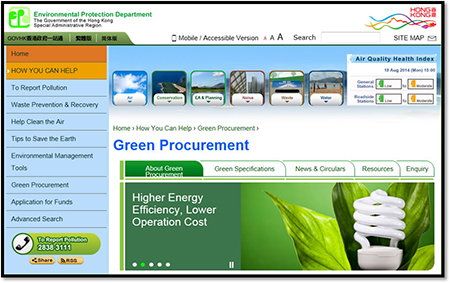 Source: Environmental Protection Department's Website