First Step on the Industry 4.0 Ladder
Get the basics right for Industry 4.0 implementation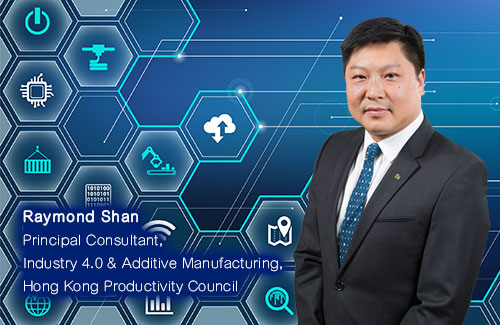 In the Internet era, consumers engaged in online shopping can quickly choose their favourite models and even incorporate their personal designs on the products. As consumers nowadays prefer tailor-made products and services, this radical change in consumption pattern has made the traditional industrial practice of lowering cost through mass production no longer a viable option in maintaining the long-term competitive advantage. Manufacturers must exercise more flexibility in mobilising the supply chain to cope with the "high-variety, low-volume" market demand.
Industry 4.0 (i4.0) uses data to integrate the value chain for product design, production, sale and services. It also enhances human-machine collaboration that enables businesses to produce and provide services based on customer needs. Although i4.0 implementation relies on various technical elements such as sensors, Internet of Things, artificial intelligence, cloud computing and big data, businesses of all types can use existing technologies and equipment for gradual migration to i4.0.
For those manufacturers wishing to implement i4.0, they may want to learn the ropes from their peers. However, each organisation has different level of digitalisation. For instance, some manufacturers have yet to apply enterprise resource planning (ERP) system while others have production lines that remain highly manual-driven. Therefore, manufacturers have to first assess their strengths and weaknesses, existing technologies and manpower in order to formulate an i4.0 roadmap and target suitable for their adoption.
Two pragmatic tips for manufacturers
However, any organisations which want to climb the i4.0 ladder, two critical steps are essential: "Digitalisation" and "Connectivity".
Information technology is a prerequisite for digitalisation and provides the solid foundation for future implementation of i4.0 smart solutions. Most manufacturers already apply IT in daily operations. For example, different types of digital systems are used in business operation. However, since they are not interconnected to enable real- time data transfer and analysis, they are very much isolated.
Only when these isolated digitalised systems and data are connected, will the actual benefits of IT be realised and the business process become more efficient. For example, once the engineering department uses the product lifecycle management system to complete product design, its design and engineering data can be sent to the machines in the production line and quality testing equipment directly. Furthermore, the management can use real time production and product quality data collected to make more appropriate decisions.
Impossible to achieve at one go
Having taken the above two critical steps, manufacturers can move onto the i4.0 maturity ladder. They can refer to the "i4.0 Maturity Level" model jointly developed by the Hong Kong Productivity Council and the Fraunhofer Institute for Production Technology from Germany in formulating their own i4.0 strategies and roadmaps.
Like the growth of man, the "i4.0 Maturity Level" model involves different development stages. The higher the maturity level, the better the decision can be made by businesses using real time data more efficiently and effectively.
As shown in figure 1, "0i" is the preparation stage of the "i4.0 Maturity Level" model which is also known as digitalisation and connectivity as mentioned before. The model features four more maturity levels, namely "Visibility (1i)", "Transparency (2i)", "Predictability (3i)" and "Adaptability (4i)". As a higher i4.0 maturity level is attained, the more values a company can use the data to create. Of course, this is a progressive process which cannot be achieved at one go.
4i: not a must
Manufacturers may also ask this question: is it a must to reach 4i to qualify as success?
It is not a must as i4.0 is only a tool. The actual goal should be on driving business growth. With each company having its own unique business environment and different client needs, manufacturers should decide which i4.0 maturity level can maximise their cost-benefit based on their business strategies.
Industry 4.0 Maturity Level development process (Source: HKPC and Fraunhofer IPT)