To assist a Hong Kong-owned vehicle repair and beauty service operator to achieve the international vehicle service operation standard VDA 6.2:2004
Name of the Client
Cool Che Cool 
Client's Profile
Hong Kong-owned vehicle repair and beauty service operator 
Client's Needs
VDA 6.2:2004 is a well-recognized vehicle service operation standard for enterprises who would like to enhance their vehicle repair and beauty services operation.
Cool Che Cool needed to benchmark with this standard to enhance their service delivery capability and operational efficiency for their workshop. VDA 6.2: 2004 primarily to assist vehicle service providers to establish and implement a professional quality management system for vehicle repairing and beauty service design, delivery and control.
Our Solutions
HKPC provided a series of training and advises of VDA 6.2 to the client from gap assessment, human resource development, documentation preparation, system implementation, system audit and certificate audit assistance.
HKPC assisted the client to establish the VDA 6.2:2004 quality management system in compliance with all the essential technical and managerial elements of VDA 6.2:2004 requirements.
Value Created
Cool Che Cool becomes the first VDA 6.2 accredited vehicle repair and beauty service company in HK by an accredited certification body.
This enables the client to sharpen an edge over its competitors in the blossoming Mainland vehicle repair and beauty market.
To assist a Hong Kong-owned vehicle repair and beauty service operator to achieve the international vehicle service operation standard VDA 6.2:2004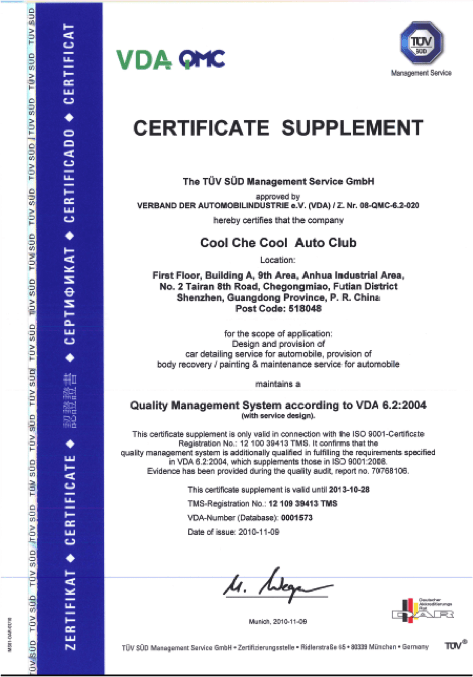 To assist a Hong Kong-owned vehicle repair and beauty service operator to achieve the international vehicle service operation standard VDA 6.2:2004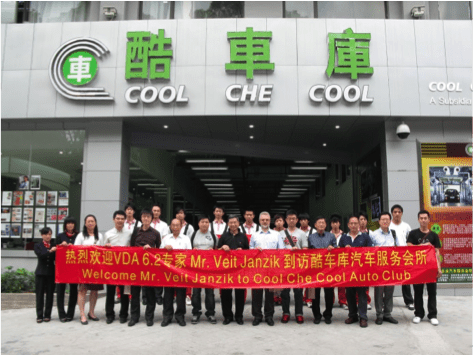 To assist a Hong Kong-owned vehicle repair and beauty service operator to achieve the international vehicle service operation standard VDA 6.2:2004