HKPC "Smarter Talent Gala" Interactive Recruitment Day for Talents to Explore I&T Career Opportunities
(Hong Kong, 31 May 2021) The Hong Kong Productivity Council (HKPC) held the "Smarter Talent Gala" recruitment day last Saturday (29 May 2021) to open the door for those yearning to pursue a career in the innovation and technology (I&T) sector, attracting over 200 talents with overwhelming response.
With the COVID-19 pandemic accelerating the digital transformation of enterprises across the globe, technology has become an indispensable part in business environment. There is an increasing demand for I&T talents and simultaneously offering abundant career opportunities under the epidemic, giving graduates high hopes for it. To enable those would-be research and development (R&D) talents to explore the development and opportunities of I&T industry, HKPC organised the "Smarter Talent Gala" to introduce its work, recruitment principles and job vacancies aiming to strengthen its talent pool.
At the event, Mr Mohamed Butt, Executive Director of HKPC, engaged in a direct dialogue with the participants so those interested to join HKPC could learn more about its key focuses and mission. In the dedicated "Young Talent and Executive Director Dialogue" session, Mr Butt exchanged views with young R&D staff and job-seekers, stating that internal training and work-life balance are what HKPC emphasises on. HKPC staff who were involved in the award-winning R&D projects of the prestigious "2021 Geneva International Exhibition of Inventions" also shared their joy and experience on the accolades and spoke about their works in digital transformation and I&T. Such interaction was warmly received by the participants.  
Apart from the chance to speak directly with HKPC staff, the participants were able to have a full view of the 100+ job vacancies offered by various divisions from smart city, robotics and artificial intelligence, digital transformation, smart manufacturing, automotive technology to green and smart living. Job-seekers were able to submit their curriculum vitae on the spot. 
Ms Eliza Ng, Chief People and Culture Officer of HKPC, said, "The Smarter Talent Gala has attracted an overwhelming response. We are delighted that the event has brought together a pool of local new forces and highly-experienced I&T talents to share the latest news of the industry and exchange insights. We benefited from the interactive sharing as well. Through this event, we have identified suitable talents and will work together with these new forces to drive the smart city development of Hong Kong."
HKPC strives for excellence in HR practices and had won numerous HR awards in 2020 including the  "Employer of Choice Award", "Asia Pacific Outstanding Employer Award", and "Next Generation Development Award" from JobMarket; "Best Diversity & Inclusion Strategy Award" and the "Best HR Analytics Strategy Award" from CTgoodjobs and the "Approved Employer Accreditation – Professional Development" from the Association of Chartered Certified Accountants, which serves as an accreditation for HKPC's excellence in providing best-in-class training courses, and expanding the scope of career development for our staff.
After "Smarter Talent Gala", HKPC will host the "Future of Work and Tech Experience Day" on 3 June 2021 (Thursday). Apart from announcing the results of "The Future of Works and Skills Survey", it will also feature sharing from the management of well-known enterprises and HR representatives on talent training and the importance of "getting equipped for the future".
- Ends -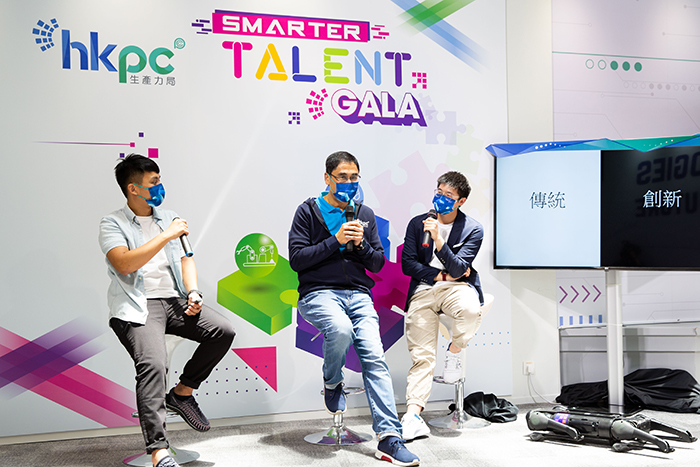 HKPC's "Smarter Talent Gala" recruitment day attracted overwhelming response. In the interactive "Young Talent and Executive Director Dialogue" session, Mr Mohamed Butt, Executive Director of HKPC (centre), exchanged views with the young talents.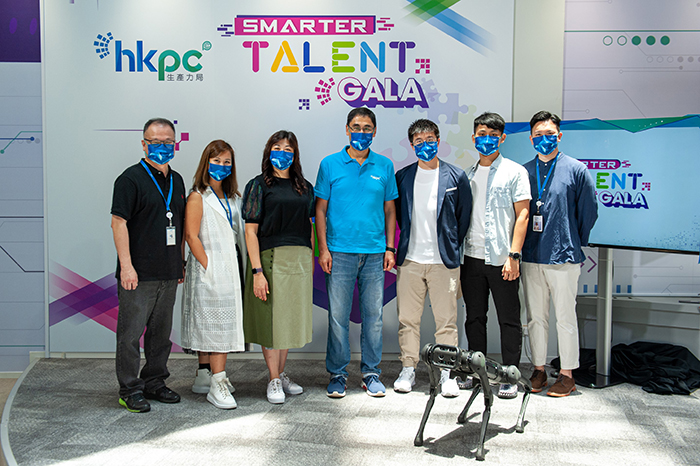 Mr Mohamed Butt, Executive Director (centre), and Ms Eliza Ng, Chief People and Culture Officer of HKPC (third from left), told participants of "Smarter Talent Gala" that HKPC attached great importance to internal training and work-life balance.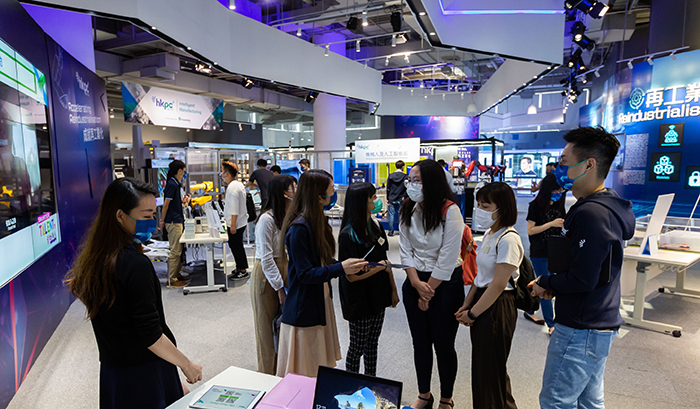 Organised by the HKPC, the "Smarter Talent Gala" successfully attracted more than 200 talents. They had the first-hand experience of the I&T environment and learned more about the I&T works at HKPC.